Nautilus E616 Home Elliptical Trainer | Reviews 2023
The mid priced Nautilus E616 Elliptical Trainer is a top contender in mid priced level elliptical machines. The E616 model can be used in your home gym and for fitness enthusiasts of any skill level who want a low impact workout. It is a medium duty machine, capable of handling user weight up to 300 pounds. The Nautilus E616 Elliptical Trainer provides an effective cardiovascular workout by combining upper and lower body flexibility and coordination into one impact-free motion and is easier on your joints. Regular use on elliptical trainers will increase heart and lung capacity while improving your health and burning calories.
The upgraded E616 uses 25 levels of Magnetic Brake resistance using an eddy current brake (the best type). Magnetic resistance has the advantage of no friction, reliability, little to no maintenance costs, and quiet operation. This model has a powered incline with a 0 to 11% motorized ramp adjustment . A weighted flywheel provides for smoother strides. Rubberized footpads make workouts more comfortable. Static & moving handlebars for a full cross training workout.
---
Nautilus E616 Features:
Features include an
20 inch stride foot path
. The 2 speed fitness fan keeps you cool as you workout. MP3 port with built-in speakers. Handlebar Grip enabled & wireless telemetric heart monitoring provides your cardio progress on the LCD display console which displays heart rate and other key workout feedback.
The Dual LCD displays come in handy when using the book/tablet holder. Features Twenty nine (29) workout programs (12 profile, 9 heart rate controlled, 4 custom, 2 fitness tests, 1 recovery test, and 1 quickstart). Water bottle holder. Transport wheels to easily move the elliptical. Reading rack (can even hold a ipad or other tablet). USB Charging port. Four user profiles. Nautilus Fitness APP keeps track of workouts and progress.
---
Maximum User Weight Capacity: Up to 300 pounds.
Elliptical Warranty: Frame: 10 years; Parts: 3 years; Electronics: 1 year, Labor: 90 days.
Dimensions: 70″(L) x 28″(W) x 71″(H) (167 lbs.)
---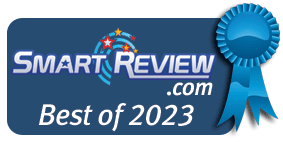 Smart-Review Commentary: The Nautilus E616 Elliptical Trainer is a mid priced, well rated mid level trainer. The top model from Nautilus. It can handle up to a 300 lb. user weight. Upgraded features include a Built-in fan, built-in speakers for your iPod or MP3 Player. The reading rack can even accommodate an ipad or tablet. Since this model has two LCD displays, one will still be visible if reading a book or using a tablet. This model comes fully loaded, yet is cheaper than higher priced Ellipticals.
Reviewers have commented that this model runs smooth and quiet, given its large flywheel. The Nautilus E616 has magnetic brake resistance for smooth, reliable, and quiet operation and has an 20-inch stride. This model has some upgraded features that the E614 model does not have, such as powered incline, more resistance levels, more programs, a backlit screen, bluetooth, and telemetric wireless heart monitoring. For Elliptical Trainers, the Nautilus E616 is a great deal for the money as a mid level trainer. Nautilus is a leader in both treadmills and elliptical trainers. The Nautilus E616 is not only a Smart-Review Top Pick, but has won our Best of 2023 Award for Ellipticals.
---
Nautilus E616 Elliptical Trainer
Nautilus E616 Elliptical Trainer
Schwinn 430 Elliptical Trainer
Schwinn 470 Elliptical Trainer

Elliptical Features

25 resistance levels
29 workout programs
Grip & Telemetric Heart monitor
Power incline
Maximum user weight limit: 300 lbs.
Water bottle holder
20-inch stride
Weighted Flywheel
Backlit Dual LCD Display
Magnetic Resistance
Tablet/Book Reading Rack
USB charging port
Bluetooth
Built-in Fan
Built-in Speakers


Is this the best price?
(Click for Reviews)
– – – – – – – –
Power Incline
Backlit Screen
Bluetooth®
25 Resistance Levels
29 Workout Programs

Is this the best price?

(Click for Reviews)
– – – – – – – –
Manual Incline
– – –
– – –
20 Resistance Levels
22 Workout Programs

Is this the best price?
(Click for Reviews)
– – – – – – – –
Power Incline
Backlit Screen
Bluetooth®
25 Resistance Levels
29 Workout Programs

---
SmartReview.com Elliptical Recommendation: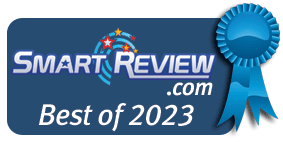 Schwinn 470 Home Elliptical Cross-Trainer
The Schwinn 470 Elliptical Trainer is an excellent medium duty elliptical under $1000. If you upgrade to the 470, you will get a well built elliptical with a powered (motorized) incline ramp, 29 workout programs, 25 levels of magnetic resistance, 300 lb. weight limit, built-in speakers & Fan, Bluetooth with APP, a Backlit LCD screen. The Schwinn 470 has received outstanding reviews. The Schwinn 470 elliptical is our "BEST OF 2023" for ellipticals under $1000.
---
Related Article: Top-Rated Nautilus Fitness Home Ellipticals | Comparison
Related Article: Best Elliptical Trainers under $1000 – Comparison and Reviews
Related Article: Best Elliptical Trainers under $2000 – Comparison and Reviews
Related Article: Smart-Review | Elliptical Trainer Buying Guide
Related Article: Schwinn 470 Vs. Nautilus E618 Elliptical Trainers | Comparison & Reviews
---