Teeter (FreeStep LT1) Recumbent Elliptical Review 2023 | Cross Trainer
The Teeter FreeStep LT1 Recumbent Cross Trainer is our lowest priced recumbent elliptical cross trainer. The seated cross trainer can be used in your home gym and for fitness enthusiasts of any skill level who want a low impact workout. Recumbent ellipticals are ideal for those with disabilities or mobility problems as it is easier to climb into than upright ellipticals. Many are used for rehab or physical therapy. It is a medium duty machine, capable of handling user weight up to 300 pounds.
The Teeter FreeStep provides an effective cardiovascular workout by combining upper and lower body flexibility and coordination into one impact-free motion and is easier on your joints. Regular use on elliptical trainers will increase heart and lung capacity and burn calories.
---
Teeter Freestep Features:
The FreeStep uses variable
Magnetic Brake Resistance
, which can be changed by the turn of a knob. Magnetic resistance has the advantage of no friction, reliability, little to no maintenance costs, and
whisper quiet operation
. Static & moving handlebars provide for a full cross training workout. Muscle targeting – by isolating legs or arms, or you can re-position the handles to target your biceps, triceps and back muscles.
Track your time, distance, speed and calorie-burn on the battery-powered LCD console. You can choose 3 recline positions and multiple height settings for the perfect fit. The console can hold your tablet or smartphone. The TeeterMoveTM App comes with Free Training (use with your smartphone or tablet).
---
Maximum User Weight Capacity: Up to 300 pounds.
Warranty: 1 year.
Dimensions: 52.5″ x 54″ x 38″ (111 lbs.)
Product: LT1 (Item# SE2001)
---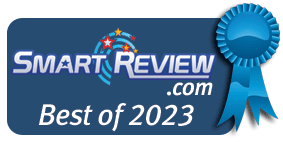 Smart-Review Commentary: The Teeter FreeStep LT1 Recumbent Cross Trainer is our lowest priced recommended recumbent elliptical. It does not have all the bells and whistles of the more expensive models, but does provide you with a seated elliptical cross training experience at a low cost. It can handle up to a 300 lb. user weight. With muscle targeting, you can isolate muscle groups, or use the cross training feature which will exercise both legs and arms at the same time. Features an LCD Console which can display your progress.
The Console is battery powered, which means you can put the FreeStep anywhere without having to plug it in. Many reviewers have commented that this model runs smooth and quiet. Consumer reviews on this model are excellent. The Teeter FreeStep has magnetic brake resistance for smooth, reliable, and quiet operation. Compact in size, the Freestep can fit in smaller areas than larger ellipticals. An upgraded LT3 model is also available (see below). This model costs less than most other models. The Teeter FreeStep has won our BEST of 2023 Award for recumbent ellipticals under $1000, and is a great value in Recumbent Elliptical Cross-Training Machines.
---
Teeter FreeStep LT1 Recumbent Elliptical
Teeter FreeStep LT1 Recumbent Elliptical
Teeter FreeStep LT3 Recumbent Elliptical

Teeter FreeStep Top 17 Features

Compact Recumbent Elliptical Cross-Trainer
Low Priced
Variable Magnetic Resistance
Maximum user weight limit: 300 lbs.
LCD Display Console
Battery Powered Console
TeeterMoveTM App with Free Training
Moving & Static Handles
Total Body Workout
Muscle Targeting
Whisper Quiet Stride
Small Footprint
Water Bottle Holder
Reclining Seat
Frustration Free Assembly
Low impact Elliptical
Transport wheels


Is this the best price?
Smart-Rating: 4.6/5
(Click for Reviews)
LCD Console
Recumbent Strider
– – –
Standard Handles
Standard Pedals
Standard Seat
Variable Resistance
1 year warranty
Best of 2023

Is this the best price?
Smart-Rating: 4.7/5
(Click for Reviews)
LCD Console
Recumbent Strider
UltraGlide Bearings
Enhanced Handles
SoftStep Pedals
ComfortSelect Seat
Variable Resistance
2 year warranty
Best of 2023
---
Related Model: Teeter Freestep LT3 Recumbent Elliptical Stepper – Review
Related Model: Teeter Freestep LT1 Vs. LT3 Recumbent Elliptical Steppers – Comparison
Related Article: Best Rated Recumbent Elliptical Machines – Comparison and Reviews
Related Article: Best Elliptical Trainers under $1000 – Comparison and Reviews
Related Article: Best Elliptical Trainers under $2000 – Comparison and Reviews
Related Article: Smart-Review | Elliptical Trainer Buying Guide
---
---
Teeter Freestep LT1 Recumbent Elliptical Cross Trainer | Review Summary

Summarized Review: The highly rated Teeter Freestep LT1 is our lowest cost recumbent elliptical cross-trainer. It is a no frills machine. It has all you need for a great low impact workout, but at a reduced price. Upper and lower body workout with magnetic resistance. The Teeter freestep is a great value in recumbent ellipticals, with excellent consumer reviews. This model is a SmartReview.com top pick for recumbent ellipticals and has won our BEST of 2023 Award.
Written By: Smart Review
Product Rating: 4.6 out of 5
---