Bowflex M3 Max Compact Elliptical Trainer | Review 2023
The Bowflex M3 Max Elliptical Trainer is a top contender in compact cross training elliptical machines. This least expensive Bowflex Elliptical. The M3 Max model can be used in your home gym and for fitness enthusiasts of any skill level who want a low impact workout. It is a heavy duty machine, capable of handling user weight up to 300 pounds.
The Bowflex M3 Max Elliptical Trainer provides an effective cardiovascular workout by combining upper and lower body flexibility and coordination into one impact-free motion and is easier on your joints. Regular use on elliptical trainers will increase heart and lung capacity while improving your health and burning calories. Compact dimensions make it easier to fit in smaller home gyms.
The upgraded M3 Max uses 8 levels of Magnetic Brake resistance using an eddy current brake (the best type). Magnetic resistance has the advantage of no friction, reliability, little to no maintenance costs, and quiet operation. Static & moving handlebars for a full cross training workout.
---
Bowflex M3 Max Features:
Features include Handlebar Pulse Grips & wireless telemetric heart monitoring. The wireless chest strap is included, and provides your cardio progress on the LCD display console which displays heart rate and other key workout feedback.
Features 2 workout programs. Water bottle holder. Transport wheels to easily move the elliptical. Contact & Telemetry Enabled (chest strap included). 2 user profiles. Target zone and burn rate indicators motivate you by setting targets to help you achieve your goals.
Maximum User Weight Capacity: Up to 300 pounds.
Elliptical Warranty: 1 years.
Compact Dimensions: 49″ L x 26″ W x 64.7″ H (143 lbs.)
---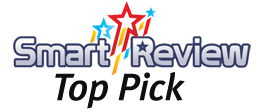 Smart-Review Commentary: The Bowflex M3 Max Elliptical Trainer is a well rated compact elliptical trainer and the lowest priced from Bowflex. This model has a smaller footprint than most ellipticals, so can fit in smaller home gyms. It can handle up to a 300 lb. user weight.
The M3 has 2 built in programs and 8 levels of magnetic resistance. Bowflex is a well known brand in fitness equipment. The Bowflex M3 Max has received favorable consumer reviews and is a Smart-Review top pick for compact elliptical machines in 2023.
---
Bowflex M3 Max Elliptical Trainer
Bowflex M3 Max Elliptical Trainer
Bowflex M8 Max Elliptical Trainer

Elliptical Features

8 resistance levels
Magnetic Resistance
2 workout programs
Target-Zone & Burn-Rate Indicators
2 user profiles
Compact – Small Footprint
Low Impact
Grip & Telemetric Heart monitor (with Chest strap)
Maximum user weight limit: 300 lbs.
Water bottle holder
Media Shelf/Tablet Holder
Oversize Pedals
LCD Display


Is this the best price?
(Click for Reviews)
– – – – – – – –
– – –
– – –
8 Resistance Levels
2 Workout Programs

Is this the best price? (Click for Reviews)
– – – – – – – –
Backlit Screen
Bluetooth® 4.0
20 Resistance Levels
11 Workout Programs
Related Article: Best Elliptical Trainers under $1000 – Comparison and Reviews
Related Article: Best Elliptical Trainers under $2000 – Comparison and Reviews
Related Article: Smart-Review | Elliptical Trainer Buying Guide
Related Article: Schwinn 470 Vs. Nautilus E618 Elliptical Trainers | Compare
---