GoPro HERO8 Black 4K Action Camera | Review
GoPro's HERO8 Black Edition is one of the top 4K action camera on the market. The big feature is HyperSmooth 2 image stabilization, which is a breakthrough in stabilization technology. Action cams are made to be in shaky environments, and image stabilization is key.
The HERO8 Black also can shoot 4K60 video (4K at 60fps), and HyperSmooth 2 works, even at this high resolution and framerate. For many applications the HyperSmooth will replace a gimbal for stabilization. Another new feature is Time Warp Video 2 which is a time lapse movie, that uses HyperSmooth to give you a much smoother and less jittier time lapse movie. Both of these technologies are readily superior when compared to prior models. A new Live Streaming application allows you to show streaming live video to social media like Facebook.
---
GoPro 4K Action CAM Features:
The new Hero8 Black has mounting fingers, so you can mount without a frame or case. The
mounting fingers
fold up into the body. The GoPro HERO8 Black is waterproof, right out of the box, and can go down up to 33 feet in water without an additional case. An optional dive housing can take it to 196 feet. The camera can be mounted on a variety of ways (such as on your bike, helmet, car, boat, etc.). The lens cover is new, with stronger Gorilla Glass installed.
The camera records to MicroSD memory cards at up to a Up to 100Mbps bitrate. The camera is also capable of taking up to 12 megapixel still pictures, along with the new self timer function. The timer countdown will display on the front LCD. Added portrait mode. The new Super Photo mode gives you superior HDR (high dynamic range) photos.
---
Advanced WiFi Features: The GoPro HERO8 Black Edition can be controlled by a Smartphone, or tablet. You can also get the optional WiFi remote which has a range of up to 600 feet and can control up to 50 cameras at a time. The GoPro has a USB-C connection (USB-C cord included) and a micro HDMI jack to hook up your HDTV. 2-inch touchscreen with touch zoom.
Whats in the Box? HERO8: Black Edition Camera, 1220mAh rechargeable Li-ion Battery, USB-C charging cable.
---
GoPro Hero8 Black Specifications:
HERO8: Black Edition Dimensions: 2.61″ x 1.91″ x 1.12″
Digital Lenses: Narrow, distortion-free Linear, Wide and SuperView
4K Recording Modes: 4K Wide@ 60,30,24 fps; 4K Superview @ 30,24 fps.
HD Recording Modes: 2.7K Wide @ 120, 60, 30 ,24 fps; 1440p @ up to 120fps; 1080p @ up to 240fps
---
GoPro HERO8 Black Vs. the HERO7 Black:
New mounting fingers allow the HERO8 Black to be mounted without a bulky outer frame, a huge improvement. You can now change the battery or SD card when using the mounting fingers, on the HERO 7 you have to remove the frame. The HERO 8 has improved the HyperSmooth image stabilization, and is now available at all framerates with several new setting for higher levels of stabilization.
Time Warp Video 2.0 (timelapse) is improved with better stabilization and more options. Live streaming can now go up to 1080p (720p in the HERO7). Max bitrate has increased from 78Mbps to 100Mbps. New "narrow" lens perspective added. A new front mic will improve audio. The Hero 8 can now get 3 different mods kits that snap onto the HERO8 Black (available in 2020). New narrow view field of view, and Night Lapse video feature. New Corning Gorilla Glass lens cover has more impact resistance.
---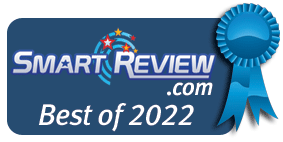 Smart-Review Commentary: The GoPro HERO8 Black Edition is the best Action Cam yet. GoPro has improved its HyperSmooth image stabilization to work with all framerates, and improve an already fantastic image stabilizer. HyperSmooth 2.0 even works at 4K/60p. Time Warp video (timelapse) has also improved with more features. Live video streaming is now available at up to 1080p to social media such as Facebook. The audio from the 3 microphones has been tweaked and improved on the HERO8 black, with one microphone front facing. New folding mounting fingers makes it so you can mount the GoPro without a frame or case, a huge time saver. And when using the mounting fingers, the new side door allows you to change batteries or micro SD cards without removing a frame or mount.
Battery life shooting at 4K resolution is about 1 hour. Battery can be charged in camera with USB. The HERO8 Black can be controlled over WiFi with a Smartphone, or for even greater range, you can get a GoPro remote. Unlike some past models, this one is waterproof without a housing down to 33 feet. The 12 megapixel photos have an improved Super Photo mode with HDR. The GoPro HERO8 Black Edition is a SmartReview Best of 2022 Award Winner.
---
GoPro HERO8: Black Edition 4K Action Cam
Specifications
HERO8:
Black Edition
Action Cam
HERO9:
Black Edition
Action Cam
HERO10:
Black Edition
Action Cam

Camcorder Features

1080p Full HD Recording
4K60 Video Ultra HD ( 4K @ 60fps)
HyperSmooth 2.0 Video Stabilization
Time Warp 2.0 Video
Live Streaming
Mounting Fingers
12MP Photos
Voice Control
Super Photo HDR
100Mbps recording bitrate
Built-in WIFI & Bluetooth
Extended Battery
Wide Angle Lens
WiFi Smartphone Control
240p HD Progressive Mode
8x Slo-Mo Video
HDMI for HDTV
Uses MicroSD Memory Cards
Waterproof/Shockproof
1/2.3-inch Back-illuminated CMOS Image Sensor


Is this the best price?

4.8 Stars Rating
4K/60
12 Megapixels
HyperSmooth 2
Time Warp Video 2
Mounting Fingers
– – –
Live Video
Self Timer
Portrait Mode

Is this the best price?

4.9 Stars Rating
4K/60 5K/30
20 Megapixels
HyperSmooth 3
Time Warp Video 3
Mounting Fingers
Front Touchscreen
Live Video
Self Timer
Portrait Mode

Is this the best price?

4.9 Stars Rating
4K/120 5K/60
20 Megapixels
HyperSmooth 4
Time Warp Video 3
Mounting Fingers
Front Touchscreen
Live Video
Self Timer
Portrait Mode
---
Accessories: GoPro HERO8 Black Edition
GoPro Lithium-ion
HERO8 Battery
GoPro Remote Control
For HERO8
Protective Housing for HERO8 Black
GoPro HERO8 Black Bundle Deal

1220mAh

600 ft. Range

Waterproof 196 ft.

Bundle Deal
---
Related Article: GoPro (Hero7 Vs. Hero8 Vs. Hero9 Vs. Hero10) Black Edition Action Cams
Related Article: Best Rated 4K Camcorders – Comparision and Reviews
Related Article: 4K & HD Camcorder Buying Guide
Related Article: GoPro Hero7 Vs. Hero8 Black Edition | Key Differences
---