Canon VIXIA HF R42 32GB Full HD Dual Flash Camcorder
*New for 2013. The Canon HF R42 is Canon's low cost 32GB Dual Flash Memory Camcorder. Records in full 1920 x 1080 Full HD Video (1080p). The 32x Optical Zoom Lens (53x advanced zoom) delivers excellent image quality and has SuperRange optical image stabilization (to keep video sharp in low light, or when doing handheld shots without a tripod). External Microphone Terminal and Headphone Jack. Included is a 1/4.85 inch HD CMOS Sensor, AVCHD H.264, Cinema-Look Filters, 2 megapixel still images, and has a 24p, 30p, and a new 60p mode. The External Microphone Jack will give you better sound options. The HF-R42 records at up to 24mbps (the AVHCD best bit rate) or 35mbps using MP4 compression. At maximum HD quality , you can record about 2 hours and 55 minutes to its internal 32GB Memory (record even more time to SDHC/SDXC memory cards). Camcorder turns on/off instantly when you open/close the LCD panel. Dolby Digital AC3 (2 Channel) sound.

This model has an HDMI Mini Connector (output) for best quality when hooking this camcorder directly to an HDTV. Features a 3.0 inch LCD touch screen (with 230,000 pixels). Dolby Digital 2 channel (AC-3) stereo sound. Built-in Wi-Fi® technology on the VIXIA HF-R42 lets you share your HD video with friends and family. Control your camcorders functions from a remote location, or upload your videos to your computer.
Canon HF R42 Dimensions: 2.1″ x 2.2″ x 4.6″ (10.1 ounces).
Camcorder HD Recording Modes: 1080p @ 30fps, 1080p @ 24fps, 1080p @60fps, 30p, 24p, 60p
Camcorder 32x Lens: 35mm equivalent: 32.5-1723mm f/1.8-4.5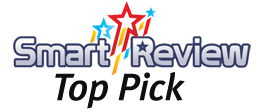 Smart-Review Commentary: For 2013, Canon's HF R42 is one of Canon's lowest cost HD camcorders, yet is packed with a lot of features. This model has a 32x optical zoom, and has an advanced mode to take it to 53x without loss of image quality. This model also has Canon's SuperRange optical image stabilization to keep images steady, especially when you use the long zoom lens. Live Streaming is a new function of the VIXIA HF R42 camcorder's built-in Wi-Fi®. It allows you to receive live video and sound that your camcorder is recording from a remote location on your iOS® or Android™ device*, using the free Canon CameraAccess app. You can even start/stop, zoom, and control other features remotely. You can monitor babies, pets, or wildlife through this feature. A surprising feature in a low cost camcorder is the inclusion of a External Microphone Jack which will give you more options for quality sound, and a headphone jack will allow you to monitor your audio. The camcorder can also record in .mp4 format for uploading to facebook, youtube, etc. Canon has adding a faster frame rate 60p mode for 2013 which is great for sports. This model has the new Digic DV4 processor. New improved longer life battery included. The new Wifi feature allow you to copy video to your computer without wires. This is an excellent HD camcorder for the money and is a Smart-Review top pick for 2013.
Canon Vixia HF R42
Canon HF R42
32GB HD Camcorder
Canon HF R40
8GB HD Camcorder
Sandisk Extreme 32GB
SDHC Card

Camcorder Features

*New 2013 Model
Full HD Recording
32x Optical Zoom
53x Advanced Zoom
32GB Flash Memory
Native 24p Mode
30p Progressive Mode
60p Progressive Mode
Built-in WiFi
HDMI Terminal for HDTV
Compact Size
Optical Image Stabilization
1/4.85 inch imager
3.0-inch LCD Touchscreen


Is this the best price?

Is this the best price?

Is this the best price?
Related Article: Flash Memory Camcorder Roundup and Comparison
Related Article: Best Low Light Camcorders – Comparision and Reviews
Related Camcorder: Panasonic HC-V750K HD WiFi Camcorder (2014)
SmartReview's coverage of the Canon Vixia HF R40/R42 at CES 2013

Shop All Flash Memory Camcorders
(Clicking on shop buttons will open a new window)