Sunny Health & Fitness SF-T4400 Folding Treadmill | Reviews 2021
The The Sunny Health & Fitness SF-T4400 Treadmill is a good low priced entry level treadmill. The quiet and smooth Sunny Health & Fitness SF-T4400 treadmill features a 2.2hp motor , which can reach speeds up to 9 miles per hour (in increments of 0.5 mph). The treadmill can manually incline to three positions (Maximum Incline Angle: 12 Degrees). You can easily store the Sunny Health & Fitness SF-T4400 as it folds up.
The running deck area is 15.75″ x 48.8″ and is ideal for light jogging or walking (suitable for people of medium height or shorter). The soft drop system will assist you when opening the treadmill. Features Handrail controls that will allow you to control your speed and start & stop the treadmill. Smart Phone/Tablet holder.
---
Console Display Features: Heart rate; Distance; Speed; Time; and Calories. Up to 9 miles per hour speed. Includes nine (9) programming options to Burn fat, and lose weight. Cushioned handlebars with heart pulse sensors.
---
Maximum User Weight Capacity: Up to 220 pounds.
Treadmill Warranty: 90 Days for parts and 3 years for frame.
Unfolded Dimensions: 62.2″ long x 26.8″ wide x 47.3″ tall (103 lbs.)
---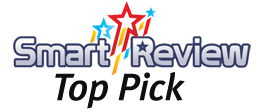 Smart-Review Commentary: The Sunny Health & Fitness SF-T4400 is a basic light duty, no frills low priced entry level compact treadmill. It is suitable for walking and jogging. Since it folds up, it is ideal for areas where you can't leave the treadmill open at all times. The treadmill has a 2.2hp motor which is good for this price range. If you are doing very heavy running/jogging or weigh over 200 lbs., you may want to look at a treadmill with a 3.0hp continuous duty motor and higher maximum weight capacity.
This treadmill is not suitable if you are tall, as you would want a longer running deck for full strides. (higher priced models have longer running decks). This model is great for those of medium height or lower. This low priced treadmill is a Smart-Review Top Pick and a great value for the money for entry level treadmills. It has received excellent reviews for an inexpensive treadmill. This is currently one of our only entries in the under $500 category.
---
Sunny Health & Fitness SF-T4400
Sunny Health & Fitness SF-T4400 Treadmill
NordicTrack T-Series 6.5 Si Treadmill
Lifespan TR1200i Home Treadmill

Treadmill Features

2.25 hp motor
0-9 miles per hour
Manual Incline
Folds up / Easy Storage
15.7 x 48.8 inch running deck
Heart monitor
Handrail Controls
Cushioned Handlebars
Maximum user weight limit: 220 lbs.
9 workout programs
90 day parts warranty
3 years frame warranty

Is this the best price?

(Click for Reviews)
16 x 49-inch Deck
– – –
Weight Limit: 220 lbs.
90 day Motor Wty
9 Workout Programs

Is this the best price?

(Click for Reviews)
20 x 55-inch Deck
Powered Incline
Weight Limit: 300
lbs.
10 Year Motor Wty
20 Workout Programs
10-inch touchscreen
iFit 1 year

Is this the best price?

(Click for Reviews)
20 x 56-inch Deck
Powered Incline
Weight Limit: 300 lbs.
Lifetime Motor Wty
21 Workout Programs
---
Related Article: Best Rated Treadmills
Related Article: Best Treadmills under $1000 – Comparison and Reviews
Related Article: Best Treadmills under $1500 – Comparison and Reviews
Related Article: Best Treadmills under $2000 – Comparison and Reviews