Nautilus T618 Folding Home Treadmill | Review 2021-2022
The Nautilus T618 Folding Treadmill is a heavy duty treadmill. It is ideal for walking, jogging, and running for weight loss or cardio workouts. Built in heart monitor program, allows you keep your heart rate constant as the treadmill adjusts the speed and incline for you. This treadmill is ideal for runners. Features include an extra strong 3.5 horsepower (hp) motor (continuous duty) , which can reach speeds up to 12 miles per hour (in increments of 0.5 mph). The treadmill can incline between 0 (flat) to a 15 percent grade.
The large deck is a 20″ x 60″ area for walking, jogging, and running. Ideal for toning up, managing your weight, and improving your cardiovascular health. The deck suspension system supports people up to 350 pounds in weight. The T618 treadmill includes a folding frame with SoftDrop™ folding technology. This model provides Bluetooth® connectivity so you can sync with the free RunSocial® App, or use the free Nautilus Trainer™ 2 App to track your progress. The T618 Treadmill also has a USB Port which can export your Workout Results to a USB Flash Drive to be uploaded to the Nautilus Connect™ website. You can also charge your devices with the USB port.
---
Nautilus T618 Advanced Features:
Features include a
backlit Dual LCD screen
(tracks your time, calories, distance, heart rate, steps, speed, and incline). Pulse grip & wireless telemetric heart rate monitoring (Bluetooth® chest strap included), and 26 workout programs. Built in 3-speed Workout fan to cool you off. Quick-start speed and incline buttons.
Built-in speakers
to listen to your music. The
Exclusive Rebound™ Cushioning System
will soften your landing and propel your kick-off while minimizing impact on your knees and joints. Up to 4 User Profiles can be used.
---
*Access the Explore the World APP:
and immerse yourself in a world of virtual courses, exotic locales, and stunning trails from around the globe, 3 free courses available; Unlock more with Explore the World app subscription.
The APP will stream to your iPad or other tablet computer. Both the T616 and T618 treadmills can communicate to these apps via Bluetooth. You can also access other fitness Apps.
---
Maximum User Weight Capacity: Up to 350 pounds.
Treadmill Warranty: Frame & Motor – 15 years; Parts/Electronics – 5 years; Labor – 2 years.
Safety Features: Large red emergency stop button, and a tether that stops the treadmill when the tether key pops out.
Unfolded Dimensions: 72.2″ long x 35.2″ wide x 57.6″ tall
---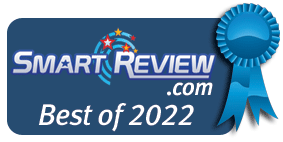 Smart-Review Commentary: The Folding Nautilus T618 is a highly rated heavy duty home treadmill (Both professional and owner reviews). Its EZ Drop system makes it easy to fold up when not in use. This treadmill is ideal for runners, as it has a large 20 x 60″ running area, has an extra strong 3.5 HP motor, 15% incline, Built-in 3-speed Cooling Fan, and the Rebound™ Cushioning System. You can set the treadmill to keep your heart rate constant (treadmill will adjust to keep it in the zone). Its Dual LCD display is clear and easy to read. The built in speakers allow you to plug in your mp3 player or Smartphone and listen to music as you exercise. The Built-in Bluetooth® allows you to sync up with Nautilus Apps on your phone or tablet. You can also record your progress to a USB device to review later on your computer at the Nautilus website.
The thicker three-ply belt is more durable than those on cheap treadmills, and built to last. The T618 has a Powerful 3.5 HP motor which means it won't be straining to keep up with you (Straining motors burn out quicker). The Handlebars are over-sized and easy to grip, and include buttons to safely and conveniently adjust your speed and incline. Reviewers report that this treadmill runs quiet and smooth. Nautilus the company has been around for almost half a century. This is one of our top models in this price range. The T618 is a great value with a 15 year motor & frame warranty, and loaded with programs and features usually seen on more expensive models. This top-of-the-line model is not only a Smart-Review Top Pick, but also received our Best of 2022 award for treadmills in the under $1500 category.
---
Nautilus T618 Home Treadmill
Nautilus T618
Home Treadmill
SOLE F80
Home Treadmill
SOLE F85
Home Treadmill

Treadmill Features

3.5 hp motor
0-12 miles per hour
Incline grade 0-15
Power Incline
Folds up
20 x 60 inch running area
Maximum user weight limit: 350 lbs.
26 workout programs
2.75-inch Rollers
Built-in Speakers
Built-in Workout Fan
**Best of 2020 **
15 year Motor and Frame Warranty
Bluetooth® connectivity
Sync with RunSocial® App
Grip and Telemetric Heart Monitors
Wireless chest strap (included)


Is this the best price?

(Click for Reviews)
3.5 HP Motor
0-15% incline
Dual LCD Display
20″ x 60″ Deck
350 lb. Weight Limit

SOLE Factory Direct
(Click for Reviews)
3.75 HP Motor
0-15% incline
Backlit LCD Display
22″ x 60″ Deck
375 lb. Weight Limit

SOLE Factory Direct
(Click for Reviews)
4.00 HP Motor
0-15% incline
Backlit LCD Display
22″ x 60″ Deck
400 lb. Weight Limit
---
Related Article: Top Rated Home Treadmills
Related Article: Home Treadmill Buying Guide
Related Article: Best Treadmills under $1000 – Comparison and Reviews
Related Article: Best Treadmills under $1500 – Comparison and Reviews
Related Article: Best Treadmills under $2000 – Comparison and Reviews
Related Article: LifeSpan Fitness Treadmills – Comparison and Reviews