Sony Handycam FDR-AX33 4K Ultra HD Camcorder | Review
The FDR-AX33 was Sony's first compact 4K consumer camcorder. Smart-Review previewed this model a while back at CES in Las Vegas and it received many Best of CES awards. This model shoots at 4K Ultra HD (3840×2160) which is at 8 megapixels resolution verus only 2 megapixels for Full HD. In addition to shooting at 4 times the resolution of HD, this model has Sony's best Balanced Optical Steadyshot (BOSS) image stabilization, the first 4K model to have this technology. This camcorder, although a consumer model has many high end features, such as a premium Carl Zeiss lens f1.8-3.4 (10x optical and 20x extended zoom). Shooting at this resolution will future proof your videos, as the industry moves toward 4K resolution in TVs. Footage in 4K can also be used for Full HD video production, as you can crop or zoom in on your footage and still maintain Full HD quality. Manual Control (Iris, Shutter, Exposure, and White Balance.
---
Sony FDR-AX33 Features:
The Sony Handycam FDR-AX33 can record Full 4K footage at 24p, and 30p. It can also record Full HD at 60p, 24p, and 30p. The high quality
Carl Zeiss Wide Angle Lens
has a 35mm equivalent of 29.8mm – 298mm. Face Detection. 1/2.3″ back-illuminated Exmor R CMOS Sensor.
NightShot® Infrared System
to shoot at night or complete darkness. Other features: up to 20.1 megapixel still images, Large
3.0 inch Xtra Fine LCD
touch-screen (921K pixels), The new powerful
Bionz X image processor
allows you to record in 4K Ultra HD, as well as improving battery life. WiFi and NFC to control your camcorder remotely.
---
Compression and Recording:
The FDR-AX33 uses the new highly efficient XAVC-S 4K compression format (
100Mbps bit rate
) to record 4K @ 30p, or (50Mbps bit rate) to record 1080p video at 60p. Records 4K video right in the camera to an SDHC SDXC U3 memory card. Can also record to AVCHD and MP4 codecs for HD. The camcorder does have an internal Dolby 5.1 surround sound microphone (with enhanced audio control), and Linear PCM audio quality. A standard accessory shoe is included for lights, and external microphones. The AX33 also includes an
External Microphone Jack
and Headphone Jack. Other Features: Tracking Focus follows selected subjects. Hookup to an HDTV or a 4K TV through the built-in
HDMI
port. USB 2.0 interface. High contrast 0.24″ EVF (Electronic Viewfinder) with 1.55 million dots is provided. Includes a lens hood.
---
Lens Specifications: 26.8mm – 268.0mm (10x optical zoom; 20x extended zoom) F1.8-F3.4 (52mm filter)
Manual Features: Assignable dial provides control of the focus, exposure, white balance, iris, and shutter speed. 31 step Mic level control.
---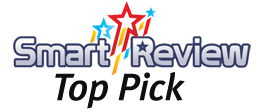 Smart-Review Commentary: The FDR-AX33 was Sony's first compact 4K camcorder. Sony has installed its best Balanced Optical SteadyShot™ (BOSS) into a consumer sized 4K Camcorder. BOSS claims to be 13x better than regular Steadyshot. In your hand, you essentially hold a camcorder that is capable of producing video with the same resolution as a movie theater, since most theaters now have 4K Sony Projectors. Shooting at 4K Ultra HD resolution will future proof your videos. 4K has 4 times the pixels of Full HD. Just as we had suggested 7 years ago to buy HD camcorders, we are doing the same with 4K. Eventually 4K TVs will be in most homes, and the video you take today will look great on those TVs, now or in 10 years. Another reason to shoot 4K is that it looks great, even if you convert it to 1080p. If you shoot in 1080p on this camcorder, it will also have higher quality because it is using the 4K capture to downsample to the 1080p video. And there are many options you have for cropping and zooming in on the 4K video, while still maintaining Full HD quality.
The Sony FDR-AX33 has a fast f1.8-3.4 Carl Zeiss lens, to help in low situations. It also has an excellent 1.55 million dot OLED EVF Viewfinder for shooting outdoors. The camcorder has an
extemely efficient recording codec XAVC-S 4K
which records at the highest bitrate in 4K of any Sony consumer camcorder (100Mbps). This assures best quality free of digital artifacts. The camcorder has a nice manual focus ring that can also be used for other manual functions. We have previewed the footage taken by this camcorder and its very
clean with no artifacts or imperfections
that we could see. The FDR-AX33 is a
Smart-Review top pick
.
---
Sony FDR-AX33 4K Ultra HD Camcorder
Sony FDR-AX33
4K Camcorder

Sony FDR-AX700
4K Camcorder

Sony FDR-AX53
4K Camcorder
(Latest Model)

Camcorder Features

4K Ultra HD Recording
Balanced Optical SteadyShot™
10x Optical Zoom
NightShot® Infrared System
100Mbps Recording
BIONZ® X image processor
EVF Viewfinder
Manual Controls
60p HD Mode
24p,30p in 4K Mode
3.0 inch Touch-Screen
WiFi and NFC
HDMI Output
F1.8-F3.6 Zeiss Lens
29.8mm Wide Angle Lens


Is this the best price?

(Click for Reviews)
1/2.3-inch Imager
EVF Viewfinder
– – –
– – –
10x Optical Zoom

Is this the best price?

(Click for Reviews)
1.0-inch Imager
EVF Viewfinder
120p HD Mode
273 Autofocus Points
12x Optical Zoom
2019 Model

Is this the best price?

(Click for Reviews)
1/2.5-inch Imager
EVF Viewfinder
– – –
– – –
20x Optical Zoom
---
---
Related Article: Best Rated 4K Ultra HD Camcorders – Comparison & Reviews
Related Camcorder: Sony Handycam FDR-AX53 4K Camcorder | Reviews
Related Camcorder: Sony FDR-AX33 Vs. FDR-AX53 4K Ultra HD Camcorders | Differences
Related Article: Sony Handycam Camcorder Model Lineup
Related Article: Best Low Light Camcorders – Comparison and Reviews
---