Panasonic Professional AG-HMC40 Flash Memory HD Camcorder
The Professional Panasonic AG-HMC40 Flash Memory HD Camcorder is highly rated and feature rich. Panasonic's AVCCAM line has features usually only seen on pro camcorders that are much more costly. Pro features include: (HDMI out, date/time stamp, remote zoom, XLR option, etc.). Unlike most Professional Camcorders which record to MiniDV Tape, this camcorder records to SDHC memory cards. Also included is a fast ( f1.8- 2.8 ) 12x Leica Dicomar Lens. The imaging sensor consists of three 1/4.1-inch 3MOS sensors (3 x 3.05mp) which can provide up to 1,920×1,080 of HD resolution, and can capture 10.6 megapixel still pictures as well as 1080p quality video. At full resolution the camcorder records to AVCHD at up to a 24mbps bit rate. At maximum quality , you can record over 2 hours and 54 minutes of video to a 32gb SDHC memory card.
The Panasonic AG-HMC40 has an HDMI Connector (output) for best quality when hooking this camcorder directly to an HDTV. Cold Accessory Shoe to add an external light or microphone. Features a 2.7-inch Wide LCD with (230,000 pixels). The electronic viewfinder (113,000 pixels) can extend and pivot. Built in speaker. Time Date Stamp feature enables shooting Legal Depositions or Surveillance.
AG-HMC40 Dimensions: 5.2″ x 12 x 5.3″ (2.2 lbs. w/o battery).
Camcorder HD Recording Modes: 1080@ 60i, 1080p@ 24fps, 1080p@30fps, and 720p@60fps, 720p@30fps, and 720p@24fps (24p native).
Focus Modes: Auto and Manual, Focus Assist Button, Switch to Focus Ring
Lens Specifications: 12x Leica Dicomar Lens 40.8 – 490mm f/1.8 – f/2.8 ( uses 43mm filter).
Imager Specifications: Three 1/4.1-inch progressive 3MOS imagers.
Microphone Built-in: Records Dolby Digital 2-channel audio
External Microphone Inputs: 3.5mm external mic input, XLR adapter terminal (allows XLR inputs with optional AG-MYA30G Adapter).
Controls: Manual and remote control connection for Zoom, Focus, Iris, Start/Stop functions.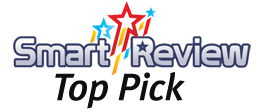 Smart-Review Commentary: The Panasonic Pro AG-HMC40 camcorder is feature rich, but relatively low in cost for a professional camcorder. At a little over 2 pounds, it is one of the lightest Pro Cams available. It is loaded with pro features (manual controls, optional XLR inputs, date stamp feature, 3MOS imagers). This Pro Camcorder records to flash memory cards (SDHC), currently available in 32gb and larger sizes. The Pro AG-HM40 offers full HD 1080p at 24p and 30p frame rates. The camcorder has received excellent owner reviews and for its price range is a best buy. This model is a Smart-Review Top Pick for Professional Camcorders.
Panasonic AG-HMC40
AG-HMC40 HD
Pro Camcorder
Panasonic 7hr. Battery
For AG-HMC40
AG-MYA30G
XLR Microphone Adapter

Camcorder Features

1080p Full HD Recording
12x Optical Zoom
Optional XLR Audio
AVCHD Compression
Manual Controls
24p Progressive Mode
30p Progressive Mode
HDMI for HDTV
Uses SDHC Memory Cards
Optical Image Stabilization
Three 1/4.1-inch imagers


Is this the best price?

Is this the best price?

Is this the best price?
Related Article: Best Professional Camcorder Reviews and Comparison
Related Article: Best Flash Memory Camcorder Reviews and Comparison
Related Article: Best Low Light Camcorders – Reviews and Comparison
Accessories for the Panasonic AG-HMC40 Pro Camcorder
Rode VideoMic
External Microphone
Deluxe Case
For AG-HMC40
Azden WMS-PRO
Wireless Microphone
Sandisk Extreme 64GB
SDHC Card
Shop All Professional Camcorders
(Clicking on shop buttons will open a new window)