GoPro HERO3+ Plus: Black Edition HD Camera-Camcorder
*New for 2014. GoPro's top of the line HERO3+ Plus: Black Edition Camera-Camcorder replaces the extremely popular GoPro HERO3 series. GoPro action cameras are designed to record your active lifestyle, and are shockproof and waterproof to 40 meters with the included case. The camera can be mounted on a variety of ways (such as on your bike, helmet, car, boat, etc.) It records to MicroSD memory cards in Full HD video. (This camcorder features High-density, ultra-smooth video at 1080/60p Recording (Full-HD 1920 x 1080, 60 Progressive frames Recording). It also includes a fast F2.8 6-element aspherical glass lens that was created for the HERO3 Plus: Black Edition to help in low light situations and is sharper than any other lens they have produced. The wide angle 170° lens can fit more people and more of the background into the frame than a conventional lens. The imaging sensor is a large 1/2.3″ CMOS Sensor which can provide 1,920 x 1,080 of HD resolution (It even has higher 4K resolution at lower frame rates). Takes 12 megapixel still pictures with a burst mode of 30fps, and continuous mode of 3fps. You can also take time lapse photos at 0.5, 1, 2, 5, 10, 30, 60 second intervals.
The GoPro Hero3+ Black Edition includes a
WiFi remote control
that has an LCD screen that mirrors the setting in the camera. The WiFi remote has a range of up to 600 feet and can control up to 50 cameras at a time. The GoPro has an
external microphone jack
, and a micro HDMI jack to hook up your HDTV. At full 1080p 60p resolution the camcorder records to MPEG-4 AVC/H.264 at a 35mbps bit rate.
Whats in the Box?
HERO3 Plus: Black Edition Camera, 131 feet / 40m Waterproof Housing, Wi-Fi Remote, Higher capacity rechargeable Li-ion Battery, QR Buckle, Vertical Quick Release Buckle, 3-Way Pivot Arm, 1 Curved Adhesive Mount, 1 Flat Adhesive Mount, USB Charging Cable.
HERO3+: Black Edition Dimensions: 2.3″ x 1.5″ x 0.8″ (2.6 ounces. with battery).
Camcorder HD Recording Modes: 4K Cinema@ 12 fps, 2.7K Cinema @ 30 fps, 1440p @ 48fps, 1080p @ 60fps, 960p @ 100fps, 720p @ 120fps
Recording Compression: H.264,AAC,.mp4, Records at 35Mbps and will support as high as 45 Mbps high video bitrate capture.
Upgrade features from the HERO3: 20% smaller and lighter, 33% improved image sharpness, Faster WiFi, 30% better battery life, better low light performance, upgraded audio quality.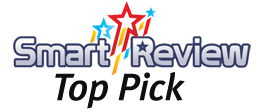 Smart-Review Commentary: The GoPro Hero3+ Plus Black Edition is a great upgrade from the previous Hero3 model. This model has been improved in many ways. Its lighter and smaller, the lens has improved for better sharpness and low light performance. The Hero3+ has an improved Built-in Wifi to remotely control your camera from either a smartphone, tablet or the included remote. The WiFi is 4x faster than the previous version. With a tablet or smartphone you will get a live video preview, and you can change the settings on the camera. The GoPro Hero3+ has upgraded audio as well. A larger capacity battery improves battery life by 30%. The GoPro Hero3+ Black Edition has received excellent reviews and is a SmartReview Top Pick.
GoPro HERO3+: Black Edition
HERO3+: Black Edition
Camera-Camcorder
HERO4: Black Edition
Latest Model
Sandisk 64gb
MicroSDXC Card

Camcorder Features

*New 2014 Model
1080p Full HD Recording
Built-in WIFI
Extended Battery
Wide Angle Lens
Remote Control
60p Progressive Mode
HDMI for HDTV
Uses MicroSD Memory Cards
Waterproof Housing
1/2.33-inch imager


Is this the best price?

Is this the best price?

Is this the best price?
Accessories GoPro Hero3+ Black Edition
Wasabi Batteries/Chrg
Hero3+ Batteries
GoPro Head Strap
For Hero3+
GoPro Suction Cup Mount
GoPro LCD Touch Hero3+ BacPac

GoPro Battery BacPac
GoPro Chest Mount Harness
GoPro Hero3+ Wrist Housing
DJI Phantom Aerial Quadcopter for GoPro
Related Article: Best Low Light Camcorders – Comparision and Reviews
Related Article: Flash Memory Camcorder Roundup and Comparison
Shop all HD & 4K Camcorders
(Clicking on shop buttons will open a new window)