Canon XA10 Professional 64GB Flash Memory HD Camcorder
The Canon Professional XA10 is Canon's lowest priced Pro dual flash memory based camcorder. Compact in size. Records in full 1920 x 1080 Full HD (1080p). Records to SDHC/SDXC memory cards (camcorder has two memory card slots) or it records to its built-in 64GB flash drive. Relay Recording allows the camcorder to automatically switch video recording from the internal drive to the next available SDHC/SDXC memory card when the internal drive is full. You can also copy video from your internal drive to your memory card(s). The 10x zoom HD Video Lens delivers excellent image quality and has SuperRange optical image stabilization (to keep video sharp in low light, or when holding the camcorder without a tripod). Included lens hood. Large 3.5-inch high resolution LCD screen. Its larger imager provides 8 megapixel still images, External Microphone Terminal with Manual Audio Level Control, Headphone Terminal, Digital DV III image processor. Included are advanced features such as Canon's Native 1920 x 1080 CMOS Image Sensor (better for low light) and provides a wide dynamic range, AVCHD H.264, and has a true 24p Cinema mode. (native 24p) . External Microphone Jack for better sound options. The XA10 records at up to 24mbps (the AVHCD best bit rate). At the maximum AVCHD quality , you can record about 5 hours and 55 minutes to its internal 64GB flash drive. More recording time is also available if you use SDHC memory cards after filling up the internal memory drive. Canon's Instant AF focusing system greatly enhances auto focus speed and accuracy and decreases the time to lock in focus (even in low light).

Professional Features: include a dedicated manual focus ring for precise focusing, 8-blade Iris (which captures smooth out-of-focus 'bokeh' ), Edge Monitor Focus Assist System– green waveform shows overall focus of image, and Detachable Handle – to give expanded audio performance and added flexibility. Two built-in XLR audio input terminals with phantom power provide sound inputs, cold accessory shoe, external microphone holder, manual audio level controller, infrared light (to allow the capture of video in complete darkness). Without the need to add lights, the shooter may remain hidden from their subjects. Waveform monitor shows a detailed view of overall image brightness. Enhanced zebra pattern indicates "blown out" areas. Full manual exposure, including aperture priority (Av) and shutter priority (Tv) modes. White balance control, Gain control, cinema look filters.
Additional Features: This model has both Component and an HDMI Mini Connector (output) for best quality when hooking this camcorder directly to an HDTV. Mini Advanced Accessory Shoe to add an external light or microphone. Features a large 3.5 inch LCD screen (with 922,000 pixels). Also included is a 0.24-inch color viewfinder (260,000 pixels). Remote Control Terminal (compatible with LANC protocol). Dolby Digital 2 channel (AC-3) stereo sound, or 5.1-channel (with optional Canon SM-V1 microphone).
Canon XA10 Dimensions: 3.0″ x 3.0″ x 6.3″ (body) (1.8 pounds w/ battery).
Camcorder HD Recording Modes: 60i, PF30 Frame Rate, PF24 Frame Rate (24p), Native 24p Frame Rate ( matches the frame rate of film).
Camcorder 10x Lens: 35mm equivalent: 30.4mm – 304mm f/1.8-2.8
Zoom Speed: Variable, Constant: Fast, Normal, Slow (16 steps in each mode)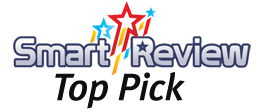 Smart-Review Commentary: The XA10 is Canon's low cost entry into the professional flash memory camcorder market. The Canon XA10 uses SDHC/SDXC memory cards or its built-in 64gb memory to record video. The lens on this camcorder offers a wider 30.4mm field of view to get more of the scene in your shot. With its relay feature, it can record using its internal 64gb memory, and then automatically switch recording to its memory cards (there are two SDHC memory card slots). The lens and the Native 1920 x 1080 CMOS Image Sensor result in better video performance and dynamic range. Full HD Recording. A nice feature is the large 3.5-inch LCD touchscreen with high resolution screen. This camcorder is loaded with all of the most important manual features including dual XLR inputs, manual focus, manual aperture and shutter, waveform, and more. The built-in infrared light provides night vision where you can shoot video in total darkness. The Touch & Track system on this camcorder keeps focus and exposure on any subject, no matter where it moves. Great for sports. The XA10 has received outstanding consumer and professional reviews. The Canon XA10 is a Smart-Review Top Pick for Professional Camcorders.
Related Camcorder: Canon Professional XA11 HD Camcorder | Review
Related Camcorder: Sony Pro NXCAM HXR-NX80 4K Ultra HD Camcorder | Review
Related Article: Best Professional Camcorders Reviews and Comparison
Related Article: Best Low Light Camcorders – Comparision and Reviews