Canon VIXIA HF W11 Full HD Waterproof Camcorder | Review
The Canon HF-W11 is Canon's first fully waterproof Full HD Camcorder. The W11 for your outdoor adventures at the beach, sports, boating, and areas with inclement weather. Records in full 1920 x 1080 Full HD Video (1080p) at up to 60fps. The Canon W11 is Waterproof (to 16.4 feet), Shockproof (to 4.9 feet), Dustproof, and Freeze Proof (to 14 degrees fahrenheit). The camcorder uses heavy duty gaskets to seal the camcorder. The 40x Optical Zoom Lens (60x dynamic zoom) delivers excellent image quality, bringing objects closer. The Intelligent IS image stabilization prevents blurring while shoot handheld. This model has a long battery life of 2 hours, 40 minutes recording time (no need to change batteries in bad weather). A built-in LED light will illuminate when lighting is dim. The auto-focus system has face tracking to maintain sharp videos. A time-lapse video feature is built-in to the Canon W11.
---

This model has an HDMI Mini Connector (output) for best quality when hooking this camcorder directly to an HDTV. Features a 3.0 inch LCD touch screen (with 460,000 dots). The sensor is 1/5.8-inch (CMOS, back-illuminated) with 2.5MP. Stereo Sound. The internal 32GB memory can record Full HD for 2 hours, 20 minutes at the highest recording bitrate. You can record longer by using the SD card slot.
---
Canon HF-W11 Dimensions: 2.4″ x 2.3″ x 5.0″ (10.7 ounces).
Camcorder HD Recording Mode: 1080p @ 60fps
Camcorder 32x Lens: 35mm equivalent: 40.5–1620mm f/1.8-6.3
Battery Life: Battery Life: 2 hours, 40 minutes (if shooting a continuous shot, battery life can be over 4 hours).
---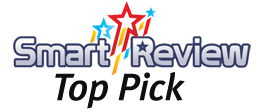 Smart-Review Commentary: Canon's HF W11 is Canon's first Waterproof, Shockproof, Dustproof, and Freeze Proof Camcorder. You can use this in any type of weather without worrying about moisture, as the camcorder is sealed by heavy duty gaskets. The camcorder is built with a long life battery, and can record for long sessions using its built-in 32GB memory, and SD memory card slot. This model has an exceptionally long zoom lens (40x optical) to bring in distant objects. For shooting outdoors in uncertain weather conditions, at the beach, or boating, this model is a Smart-Review Top Pick.
Canon Vixia HF W11
Canon HF W11
(no WiFi)
Canon HF W11
Bundle Deal
Canon HF R82
(with WiFi)

Camcorder Features

*New 2019 Model
Full HD Recording
Waterproof, Shockproof, Dustproof & Freeze Proof
Long Battery Life
40x Optical Zoom
60x Dynamic Zoom
Time Lapse Video
High Capacity Battery
SD memory cards
Built-in 32GB Memory
HDMI Terminal for HDTV
Compact Size
Inteligent IS Stabilization
1/5.8 inch imager
3.0-inch LCD Touchscreen

Is this the best price?

(Click for Reviews)
1080p Full HD
WaterProof
32GB Internal Mem
– – –

Is this the best price?

(Click for Reviews)
1080p Full HD
WaterProof
32GB Internal Mem
– – –

Is this the best price?

(Click for Reviews)
1080p Full HD
– – –
32GB Internal Mem
Built-in Wifi


SmartReview.com previewed the HF-W10 and HF-W11 waterproof camcorders at CES
---
Related Article: Flash Memory Camcorder Roundup and Comparison
Related Article: Best Low Light Camcorders – Comparison and Reviews
Related Camcorder: Panasonic HC-V770 HD WiFi Camcorder
---