Precor TRM 223 Energy Series Home Treadmill | Reviews
The Precor TRM 223 Energy Series Home Treadmill is an excellent all around home treadmill with health club quality. The quiet and smooth Precor TRM 223 treadmill features a powerful 3.0 hp motor (continuous duty), which can reach speeds up to 12 miles per hour (in increments of 0.5 mph). The treadmill can incline between 0 (flat) to a 15 percent grade. This model is non-folding, which adds to its stability and allows for a higher user weight capacity. Precor provides a large running deck area of 20″ x 57″ suitable for running, jogging or walking. A tablet holder is included (ipad, android, windows, etc.), and by plugging in the audio jack from your tablet, or smart phone, you can control the volume through the console (headphone jack in the front is included).
---

Energy Stride™ Technology reduces impact on joints while walking, jogging, or running. Precor treadmills can adjust for the natural changes in your stride and provide a stable, and low-impact running surface. Multi-zone suspension cushions your joints upon impact.
---
The upgraded Series 20 Console has 9 workout programs: 1-1 Interval, 1-2 Interval, Weight Loss, Aerobic, Basic HRC, Hill Climb, Cross Country, Random, and Manual. This model also has dedicated buttons for 2 user IDs. There is also a quick start option. 12 workout metrics are available on your backlit LCD screen. These include: (Heart Rate, Calories, Distance, Time Elapsed, Time Remaining, Incline, Pace, Speed, Average Speed, SmartRate® Zone, Target Heart Rate, % Complete ). Magnetic safety clip, when detached, immediately turns off power. Larger stop button. Touch heart rate monitoring, and wireless telemetry enabled. You can use an optional wireless polar chest strap heart monitor with this treadmill.
---
Maximum User Weight Capacity: Up to 350 pounds.
Treadmill Warranty: Frame – Lifetime; Motor/Parts/Electronics – 5 years; Console – 3 years.
Dimensions: 81″ long x 32″ wide x 54″ tall (227 lbs.)
---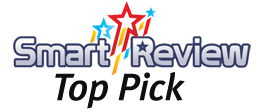 Smart-Review Commentary: The Precor TRM 223 is Precor's newest home treadmill. The Precor brand is well known for those that frequent health clubs and gyms. They are known for long term durability which is needed for heavy use. This home energy series has the same type of precor quality as the commercial models. With its powerful 3.0 horsepower motor, it is suitable for walking, running, and jogging. This is a non-folding treadmill which adds stability, and has a maximum weight limit of 350 lbs. Precor Energy Series treadmills feature Energy Stride™ Technology that is inherited from Precor's commercial treadmills gives you a low impact workout, to reduce stress on your joints.
The Precor TRM 223 differs from the TRM 221 in that it has side arms, and the Series 20 Console, which gives this treadmill more programs, and metrics, as well as a tablet holder. This is a Smart-Review Top Pick for a heavy duty home treadmill that will give you the solid feel of health club treadmill. It is also Precor's lowest priced treadmill model with the 20 Series console for 2019.
Precor TRM 223
Energy Series Treadmill
Precor TRM 223
Energy Series
Home Treadmill
Precor TRM 221
Energy Series
Home Treadmill
Precor TRM 445
Precision Series
Home Treadmill

Treadmill Features

3.0 hp motor
0-12 miles per hour
Incline grade 0-15%
20 x 57 inch running area
Tablet Holder w/audio input
Heart monitors
Maximum user weight limit: 350 lbs.
9 workout programs
Energy Stride™ Technology
SmartRate® Target Heart Zone
12 Workout Metrics
Two cup holders


Is this the best price?
9 Workout Programs
– – –
LCD Display
Heart Telemetry
– – –

Is this the best price?
6 Workout Programs
– – –
LCD Display
Heart Telemetry
– – –

Is this the best price?
23 Workout Programs
-2% Decline
Color LCD
Heart Telemetry
Strap Included
---
Demonstration of the new Precor Energy Series Home Treadmills
Related Article: Precor Home Treadmills – Comparison and Reviews
Related Article: Best Treadmills under $1000 – Comparison and Reviews
Related Article: Best Treadmills under $1500 – Comparison and Reviews
Shop All Treadmills
(Clicking on shop buttons will open a new window)