Precor Fitness TRM 835 Commerical Treadmill | Review 2021
The Precor TRM 835 Commercial Treadmill is built to stand up to the rigors of gyms and fitness clubs, as it is commercial grade. The quiet and smooth Precor TRM 835 treadmill features a powerful 4.0 hp motor (continuous duty), which can reach speeds up to 16 miles per hour (highest in all treadmills we cover). The treadmill can incline between 0 (flat) to a 15 percent grade. Incline & Decline Grade – A rare feature on this treadmill is 3% decline grade. Decline simulates running downhill, and works out a different set of muscles.
---
Precor 835 Treadmill: This model is non-folding, which adds to its stability and allows for a higher user weight capacity. The large running deck area is a large 22″ x 60″ for running, jogging or walking. The deck is reversible for longer life. Low-impact landing at the front of the belt where the highest impact takes place with the patented ground effects impact Control system (GFX).
---
Precor TRM 835 Features:
The LED console on the commercial TRM 835 has an easy to read LED display and will be familiar to those that use these treadmills in the gym. The treadmill has 25 pre-set workout programs, and 20 metrics to display. Grip and telemetry heart monitoring. Compatible with Polar heart straps. Tablet holder with USB charging.
M25 Built-in Programs: Manual, Interval, Heart Rate, Basic HRC, Custom Weight Loss HRC, Weight Loss HRC, Weight Loss, 1 Aerobic, 2 Aerobic, Custom Weight Loss HRC, Weight Loss HRC, Variety, Random, 1 Cross Country, 2 Cross Country, 1 Gluteal, 2 Gluteal, 1 Custom, 2 Custom, Performance, Track, 5K, Gerkin Fitness Test, Special: USAF PRT, Navy PRT, Army PFT, USMC PFT, Federal Law Enf. PEB WFI Firefighter Test.
---
Maximum User Weight Capacity: Up to 400 pounds.
Treadmill Warranty: Frame – Lifetime; Motor/Running Deck/Belt – 10 years; Console – 3 years; Labor – 1 year;
Dimensions: 83″ long x 35″ wide x 62″ tall (420 lbs.)
---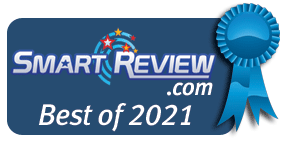 Smart-Review Commentary: The Precor brand is well known for those that frequent health clubs and gyms. They are known for long term durability which is needed for heavy use. The commercial TRM 835 is seen in many gyms. With its powerful 4.0 horsepower motor, it is suitable for walking, running, and jogging. The large 60×22-inch running deck is ideal for runners of any height. This model can go up to 16mph, the highest of any treadmill we cover. This is a non-folding treadmill which adds stability, and has a high maximum weight limit of 400 lbs..
This is truly a heavy duty runners treadmill, built to last. Low impact GFX system built-in to the running belt. The running belt is reversible for long life. The LED Console has a familiar look of those treadmill at the gym and comes with 25 built-in programs. The Precor TRM 835 is one of our best rated treadmills, and has received high praise from both consumers and professionals. This is a Smart-Review Top Pick and has won our BEST of 2021 award for commercial treadmills.
---
Precor TRM 835 Treadmill
Precor TRM 835 Treadmill
Precor TRM 731 Treadmill
NordicTrack 2450 Treadmill

Treadmill Features

4.0 hp motor
0-16 miles per hour
Incline grade 0-15
-3% Decline grade
22 x 60 inch running area
Reversible Deck
Heart monitors
Maximum user weight limit: 400 lbs.
25 workout programs
20 displayed metrics
Heavy Duty
Ground Effects GFX
Tablet holder
Two cup holders


Is this the best price?
(Click for Reviews)
4.0 HP Motor
0-16mph
LED Console
– – –
25 Workouts

Is this the best price?
(Click for Reviews)
4.0 HP Motor
0-12mph
LED Console
– – –
22 Workouts

Is this the best price?
(Click for Reviews)
4.0 HP Motor
0-12mph
14-inch Touchscreen
iFit Classes
50 Workouts
---
Related Treadmill: Nordictrack 2450 Commercial Treadmill with Touchscreen & iFit classes
Related Article: Precor Home Treadmills – Comparison and Reviews
Related Article: Best Treadmills under $1000 – Comparison and Reviews
Related Article: Best Treadmills under $1500 – Comparison and Reviews
---