LifeSpan Fitness TR800-DT5 Treadmill Desk | Review
Rated 4 1/2 Stars


(Top Rated)



Factory Direct Price
The LifeSpan Fitness TR800-DT5 Treadmill Desk is Lifespan's lowest priced desktop treadmill. Ideal for both workplace or home. This medium duty treadmill has a built-in workstation desk to get work done while exercising. It is ideal for walking for hours while you work. Features include a strong 2.0 horsepower (hp) high torque motor (continuous duty) , which can reach speeds up to 4 miles per hour. The motor is optimized for up to 3 hours of use per day. Walk slow, or at a faster path, for hours at a time while you get your work done.
Why sit at a desk all day, when you improve your posture, lose weight, and improve your health by using this treadmill desk. Our bodies are not made to sit for extended periods of time. The desk surface measures 38″ wide by 29″ depth and can accommodate a computer monitor, keyboard, phone, laptop, and other equipment. A cable management system allows cables to be uncluttered. Built-in Bluetooth allows you to share your workout with the new Lifespan App. The desk is height adjustable for proper ergonomics. The deck is a 18″ x 45″ area which is perfect for walking. A bio-mechanically sound deck suspension system supports people up to 300 pounds in weight. Intelli-Step step-counting feature that works like a pedometer. The Control Console is located at the front of the desktop for easy access. One advantage of this treadmill is that it comes completely assembled and ready to plug in except for the desk portion which is semi-assembled requiring about 15 minutes to assemble.
---
TR800-DT5 Treadmill Features:
Control Readouts: Distance Traveled, Calories Burned, Time and Step Count. Deck suspension support by 6 compression shocks to dampen impact and walking noise. Rated for up to 3 hours daily use. Padded armrests at the front of the desk enhances user comfort. Desk adjusts to user height.
Intelli-Guard™ Automatic shutoff
if you step off the treadmill.
Very quiet operation:
This Desk Treadmill runs quietly. Using a rubber equipment mat can help to further reduce sound from floor vibrations.
---
Maximum User Weight Capacity: Up to 300 pounds.
Treadmill Warranty: Frame – Lifetime; Motor – 3 years; Parts – 1 year; Labor – 1 year.
Treadmill Base Dimensions: 66″ L x 25″ W x 9.5″ H
Desktop Dimensions: 38″ x 29″ (W x D)
---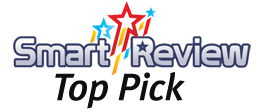 Smart-Review Commentary: The LifeSpan TR800-DT5 is a highly rated Treadmill Desk. It is specifically designed to be used for hours a day at low speeds, so you can walk while working. This will result in longer motor and component life. Burn calories while keeping yourself occupied with work. It can go up to a brisk 4 mph, and is Extremely Quiet., so you can get work done and talk on the phone. The desk is adjustable for height, so that it is at the perfect height for users from 4 feet 10″ to 6 feet 8″. The 18 x 45″ durable 2-ply walking surface has been designed for walking. The desk is designed to allow you to use your own monitor, laptop, keyboard, phone, and other equipment. The desk surface measures 38″ W x 29″ D .
The TR800-DT5 has a cable management system with a cable tray which is tucked under the desk to store your cables. This is the perfect way to fit in exercise and still get your work done. Console Controls are built-in at the front of the treadmill. One huge advantage of this treadmill is that it comes fully assembled, except for the desk portion (about 15 minutes assembly). Reviewers report that this treadmill runs quiet and smooth. We have found that overall the LifeSpan Fitness brand of treadmills have received outstanding reviews. They are the leader in treadmill desks. This model gets the Smart-Review Top Pick rating in the treadmill desk category and is highly recommended. This is Lifespan's lowest priced Desk Treadmill.
---
Customize your Treadmill Desktop Size & Color Directly from Lifespan Fitness with factory direct prices.
LifeSpan Fitness TR800-DT5
LifeSpan Fitness TR800-DT5
LifeSpan Fitness TR1200-DT5
LifeSpan Fitness TR1200-DT7

Treadmill Features

2.0 hp motor
0-4.0 miles per hour
Built-in Desk
Cable Management
Front Controls
Fast Assembly
Built-in Bluetooth
38″x 29″ Desktop
18 x 45 inch walking area
Intelli-Guard™ Auto Shutoff
Lifetime frame warranty
Maximum user weight limit: 300 lbs.

LifeSpan Factory Direct (Top Rated Treadmill)
Manual Height Adjust
300 lb. Weight Limit
2.0 HP Motor

LifeSpan Factory Direct (Top Rated Treadmill)
Manual Height Adjust
350 lb. Weight Limit
2.25 HP Motor


Is this the best price?

(Click for Reviews)
Electric Height Adjust
350 lb. Weight Limit
2.25 HP Motor
---
Lifespan Fitness TR1200-DT7 Treadmill Desk Demo at CES
Related Article: Best Rated Treadmill Desks – Comparison and Reviews
Related Article: Best Treadmills under $1000 – Comparison and Reviews
Related Article: Best Treadmills under $1500 – Comparison and Reviews
Related Article: Best Treadmills under $2000 – Comparison and Reviews
Related Article: LifeSpan Fitness Treadmills – Comparison and Reviews
Shop All Treadmills
(Clicking on shop buttons will open a new window)