LifeSpan Fitness TR3000i Folding Treadmill | Reviews (2022)
**New Model** The LifeSpan Fitness TR3000i Folding Treadmill is a highly rated, heavy duty treadmill. It is ideal for walking/jogging for weight loss or cardio workouts. Built in heart monitor program, allows you keep your heart rate constant as the treadmill adjusts the speed and incline for you. Features include a strong 2.75 horsepower (hp) motor (continuous duty) , which can reach speeds up to 12 miles per hour (in increments of 0.5 mph). The treadmill can incline between 0 (flat) to a 15 percent grade.
The 1-inch thick deck is a 20″ x 56″ area for walking, jogging or running, and has 8 shock absorbers to cushion the impact. Ideal for toning up, managing your weight, and improving your cardiovascular health. The deck suspension system supports people up to 350 pounds in weight. The TR3000i treadmill includes a folding frame with an automatic EZ Drop system. Intelli-Step step-counting feature that works like a pedometer. Link to the Lifespan APP via Bluetooth to your Smartphone or Tablet to view your progress.
---
LifeSpan TR3000i Treadmill Features:
The LifeSpan Fitness TR3000i features include a 7-inch full-color touchscreen with 3 dashboard views (graph view, gauge view and track view). Keeps track of time, calories, distance, heart rate, steps, speed, and incline. Pulse grip heart rate monitoring, heart telemetry, and 38 workout programs. Includes 5 Quickset™ speed and 5 Quickset™ incline buttons.
Built-in speakers to play music from your Smartphone, or MP3 player. Progress can be tracked using the Lifespan APP using the built-in Bluetooth to your Smartphone or Tablet. Built-in Cooling fan.
Safety: Intelli-Guard, a patented LifeSpan feature, automatically pauses belt movement 20 seconds after you step away from the treadmill deck.
2019 Upgrade Features: The new model has added a Color Touchscreen, upgraded to 38 workout programs (up from 23), added heart telemetry, and Bluetooth to connect to the Lifespan APP.
---
Maximum User Weight Capacity: Up to 350 pounds.
TR3000i Treadmill Warranty: Frame – Lifetime; Motor – Lifetime; Parts – 5 years; Labor – 1 year.
Unfolded Dimensions: 75″ long x 34″ wide x 54″ tall (225 lbs.)
---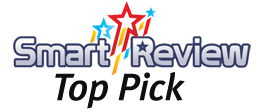 Smart-Review Commentary: The new Folding LifeSpan Fitness TR3000i Treadmill has been updated for 2019. The new 7-inch touchscreen, with more workout programs (38), and added Bluetooth are new features for 2022. Its EZ Drop system makes it easy to fold up when not in use. With a large 20 x 56″ running area, it is ideal for walking, running, or jogging. You can set the treadmill to keep your heart rate constant (treadmill will adjust to keep it in the zone). Its backlit LCD touchscreen display is clear and easy to read.
The built in speakers allow you to plug in your mp3 player and listen to music as you exercise. The Handlebars are over-sized and easy to grip, while the 1-inch thick Deck is made to absorb the impact, and has 8 shock absorbers. Quickset™ Keys are provided for Speed and Incline. We have found that overall the LifeSpan Fitness brand of treadmills have received outstanding reviews. For 2022, the TR3000i gets the Smart-Review Top Pick Rating for treadmills.
---
LifeSpan Fitness TR3000i
LifeSpan Fitness TR3000i
LifeSpan Fitness TR1200i
LifeSpan Fitness TR2000e

Treadmill Features

2.75 hp motor
0-12 miles per hour
Incline grade 0-15
Power Incline
Folds up
20 x 56 inch running area
Heart monitor
Heart Telemetry
Built-in Bluetooth
Maximum user weight limit: 350 lbs.
38 workout programs
Built-in Speakers
Store progress/USB
Cooling Fan
Lifetime Motor and Frame Warranty



(Click for Reviews)
2.75 HP Motor
350 lb. Capacity
8 Shocks
20×56-inch Deck

(Click for Reviews)
2.5 HP Motor
300 lb. Capacity
8 Shocks
20×56-inch Deck

(Click for Reviews)
2.5 HP Motor
300 lb. Capacity
8 Shocks
20×56-inch Deck
---
Related Article: Best Rated Home Treadmill Top Picks for 2020
Related Article: Smart-Review Home Treadmills Buying Guide for 2020
Related Article: Best Treadmills under $1000 – Comparison and Reviews
Related Article: Best Treadmills under $1500 – Comparison and Reviews
Related Article: Best Treadmills under $2000 – Comparison and Reviews
Related Article: LifeSpan Fitness Treadmills – Comparison and Reviews