| | |
| --- | --- |
| Dyson's best upright vacuum for 2016-2017. The new top-rated Dyson Cinetic "Big Ball" Animal+Allergy vacuum cleaner has the newest Cyclonic technology called Dyson Cinetic Science. The new technology eliminates the need for a filter, so no filters to clean or replace. The motorized brush bar and included tools, makes this model ideal for removing pet hair. For delicate rugs and hard floors, the brush bar can be turned off. Dyson's upright ball vacuum is ideal for those who want a powerful vacuum that doesn't lose suction, but also don't want to have to work with a heavy floor-cleaning machine. Equipped with the latest Dyson Big Ball technology, this upright vacuum cleaner sits on a ball for easy twisting and turning around furniture and obstacles. This version is Dyson's best vacuum for pet hair. Whole-machine HEPA filtration (great for those with allergies or pets). The cleaner head on the Dyson Cinetic Big Ball, self-adjusts which gives you more suction power on both carpets and hard floors. The Cinetic Big Ball Complete comes with an extra tool bag which includes the new Carbon Fiber Soft Dusting Brush, Multi-Angle Brush, Mattress Tool, Reach Under Tool, and Toolbag. This model also comes with the tangle free turbo tool for cleaning pet hair, stairs, upholstery, and car interiors. The Dyson Cinetic has won our Best of 2016 Award for upright bagless vacuums. …More… | |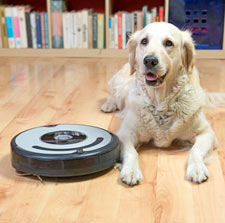 Best Rated Robot Vacuum Cleaners (2016-2017)
This is a roundup and comparison of the best rated robot vacuums currently available. Robot vacuums will automatically clean your rugs or hard floors while you do other activities. Some even have a remote control or WiFi APP so you don't have to get up to start them. Both the iRobot 960 and the iRobot 980 can control your vacuum with a smartphone. Many of the top robot vacuums can even have advanced features such as HEPA filtration (great for allergies or pets). Sensors and intelligent software onboard the robot vacuum keep it from getting stuck, or going down your stairs.
Best Rated Soft Carpet Vacuum Cleaners – This is a roundup of the best rated vacuums for soft style plush carpet. Soft & Plush carpets have ultra dense piles to give them that soft feel. Vacuuming Soft plush carpeting is an extreme challenge for many traditional vacuums, that can get stuck on the carpets, and […]
Vacuum Cleaner Buying Guide (2016-2017) – Buying a vacuum cleaner is more complicated than it used to be. Today, you must choose between many options, such as an upright or canister, bagged or bagless, and a large array of options. Many of today's vacuums filter the air with HEPA filters, best for those with allergies. […]
** New for 2016-2017** Dyson's best rated and most powerful cordless stick vacuum. The fifth generation Dyson V8 Absolute cordless stick vacuum has more suction power than any other lightweight cordless vacuum cleaner available. The V8 Absolute model has a new V8 motor with higher suction, up to double the battery life which gives you (up to 40 minutes) of cleaning time, and a more powerful motorized floor tool. The Dyson engineers have made the V8 model 50% Quieter than previous models, and has added a new dirt/dust ejection system. This new model weighs less than 6 pounds and has a detachable handheld. It is ideal for quick cleaning on all floor types, upholstery, stairs and inside your car. Since it is an Absolute version it can handle pet hair with extra included tools. Whole Machine HEPA Filtration. Includes two floor tools. Two Tier Radial™ Cyclone Technology uses 15 cyclones to separate out dirt and dust. The high-end Dyson V8 Absolute has won our Best of 2016 Award in the cordless vacuum category. …More…



*The Best Cordless on the Market for 2016*
| | |
| --- | --- |
| **New for 2016-2017** The Shark Rotator NV752 TruePet powered vacuum is another advancement in Shark Vacuums. What sets this premium model apart is both the cleaner head, and the pet tool, are electrically powered, instead of air powered for better cleaning. This vacuum is designed for those with Pets and pet hair problems. The NV752 TruPet gives you a combination of a lightweight upright along with a detachable lightweight canister vacuum (with powered brushroll). Never loses suction Technology gives this vacuum consistent suction power. To prevent you from breathing in the dust and dirt you are vacuuming, Shark has an Anti-Allergen Complete Seal Technology(tm) which traps 99.99% of dust inside the vacuum. Lifetime HEPA filter. Swivel steering and smooth-gliding wheels provide easier maneuvering around furniture. This top-rated model compares favorably to Dyson models. Longer seven year warranty. Brushroll on/off capability for powerful carpet and bare floor cleaning. By turning the collar around the handle, you can control the amount of suction. Important when vacuuming delicate rugs, drapes, and other uses where you may not want full suction. Built-in Headlights to see in dark areas. The brushroll controls are built into the handle. …More… | |
*New for 2016-2017*. The Miele Cat & Dog Dynamic U1 Upright is Miele's answer to those that have pets. Its quiet operation is more pet friendly than noisy competitors. This and all Miele vacuums are well built German engineered vacuums, built to last. The Miele U1 Series features a unique SwivelNeck Technology which allows you to steer your upright effortlessly with just a turn of your wrist. It also allows you to position the vacuum in a flat to the floor position, allowing you to get under low furniture. Brushbar on/off controls in the handle. The 360-degree swivel front wheels allow for exceptional maneuverability. Automatic Height Adjustment: The Miele Cat & Dog Electrobrush will follow all the contours of your floor, and automatically adjust for differing carpet depths and surface coverings, remove pet hair and provide even, consistent suction and gentle cleaning. Motor protection indicator. The Miele Dynamic U1 upright uses a two motor system. One for suction and one for the brush bar. Suction control has 4 power settings to lower power for delicate fabrics, drapes and rugs. The included Mini Handheld Turbobrush allows you to vacuum pet hair, dust and dirt from your Car, upholstery, and stairs. Miele's AirClean Sealed System, consists of an AirClean FilterBag and an Air Clean Filter which captures and retains 99.9+% of dirt, dust and allergens. Its activated charcoal filter, absorbs odors. The high-end Miele Cat & Dog has won our Best of 2016 Award for bagged upright vacuums. Miele is our best rated brand in the bagged upright vacuum category. …More…



Miele Dynamic U1
Cat & Dog Upright
Vacuum

Newest Model




(Click for Reviews)
– – –

Top Rated Robot & Robotic Vacuum Cleaners * Comparison & Reviews 2016-2017 Smart-Review features only the best-rated robotic vacuums. We limit reviews to only those vacuums that meet our rating requirements. iRobot and Neato robotic vacuums are among the highest rated robot vacuums from both professional and consumer reviews. Most can be scheduled to clean […]
| | |
| --- | --- |
| iRobot Roomba 880 Robot Vacuum . The new Roomba 880 is one of iRobot's best robot vacuums to date. This time iRobot has introduced its new Tangle-Free AeroForce Extractors, which gets rid of brushes, increasing suction and airflow no matter what surface it is vacuuming. It is effective at getting dirt, dust, pet fur, and pet hair from a variety of surfaces using its patented 3 stage cleaning system. The built-in HEPA filter traps dust and allergens and will keep your air clean and smelling fresh, great for those with allergies, pets and pet hair. This sophisticated robot vacuum has Dirt Detect Series 2 Technology uses both optical and acoustic sensors to identify dirtier areas and spends more time cleaning them. Using advanced software and sensors, the Roomba 880's iAdapt technology ensures that it vacuums every section of your floor, including areas you cannot easily reach, such as under furniture. As a multi-floor vacuum, this robotic vacuum will automatically adjust to clean carpets, hardwood, tile, and linoleum floors as it moves through your home. Roomba will vacuum every section of your floor multiple times, and its advanced software allows it to get around obstacles, move along walls and to avoid falling down stairs, drop-offs, and avoid tangles from loose cords. The Roomba 880 starts working for you at the push of the CLEAN button (on the top of the vacuum). …More… | |
Best Rated Dyson Vacuum Cleaners – This is a roundup of the best rated Dyson vacuums currently available. Dyson is the innovator and creator of transparent bin bagless and cyclonic technology vacuums. Dyson's strong suction and tools are known for removing pet hair with ease. Dyson has received extremely high consumer reviews in both canister […]
Canister Vacuum Cleaner Buying Guide 2016-2017 Canister vacuums have traditionally been used mainly for hard floor surfaces, including hard wood floors, tile floors, and laminate. Today, many Canisters also have air driven or motorized brush bar tools, so you can also do carpeting. There are a large array of options with today's Canisters, Many of […]
Top Rated Vacuum Cleaners * Comparison & Reviews 2016-2017 Smart-Review features only the best-rated vacuums. We limit reviews to only those vacuums that meet our rating requirements. Dyson and Miele vacuums are among the highest rated vacuums from both professional and consumer reviews. There are two types of vacuums, Upright and Canister. Vacuums can also […]
Cordless Vacuum Buying Guide 2016-2017 Today's cordless stick vacuums have advanced enormously in recent years. Dyson has been at the forefront of cordless technology by introducing cyclonic technology, smaller more efficient digital motors, advanced accessories, and more powerful suction. In cordless vacuums, Dyson although pricier is the undisputed leader in the field with top reviews. […]
Best Rated Commercial Vacuum Cleaners for 2016-2017 This is a roundup of the best rated commercial upright and canister vacuums currently available. Commercial vacuums are made for heavy duty day to day use, and will hold up better than residential vacuums. Commercial vacuums are used in commercial settings such as office buildings, apartment buildings, and […]