HDTV: How Large a Screen Do You Need?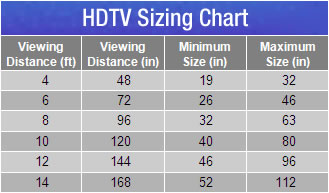 In general, your viewing distance should be between 1.5 to 3 times the screen size. If you are watching mostly DVDs, Blu-ray, HD Games (playstation 3) or HDTV broadcasts, you can sit more towards the 1.5 times screen size. If watching mostly old standard definition broadcasts, then you would want to sit further back. So a 32-inch HDTV should be viewed from about 4-8 feet, a 52-inch HDTV from 7 – 13 feet . There is no hard rule to sizes, but if you buy a set that is too small, you will lose some of the fine detail that an HDTV is capable of. So make sure you get a set big enough to meet your needs. Keep in mind that the new widescreen TVs are longer, but vertically shorter than the old style TVs for a given size.
Once you decide how big a tv you need, you can consult our size roundup pages which compare the same size HDTVs by size, price, reviews, and features. Click on the size below that fits your needs.
---
19 to 29-inch HDTVs Roundup and Comparison
32-inch HDTVs Roundup and Comparison
37 to 39-inch HDTVs Roundup and Comparison
40-inch HDTVs Roundup and Comparison
46-inch HDTVs Roundup and Comparison
47-inch HDTVs Roundup and Comparison
50-inch HDTVs Roundup and Comparison
55-inch HDTVs Roundup and Comparison
60-inch to 65 inch TV Roundup and Comparison
70-inch to 80-inch TV Roundup and Comparison
---
LED TV Roundup and Comparison
Plasma TV Roundup and Comparison
4K Ultra HD TV Reviews and Comparison
LED 3D TV Roundup and Comparison
---
Shop HDTVs by Screen Size