Canon 10×30 IS II * Image Stabilization Binoculars | Review
Canon's 10×30 IS II ultra-compact lightweight 10x binoculars have a built-in Image Stabilizer (IS) system that allows you to view far away objects without blur. When you hold a pair of standard binoculars, any shake in your hand or where you are standing (a boat), can blur what you are seeing. The higher the magnification of the binoculars, the greater this problem. Some high power binoculars require a tripod. Canon's IS system removes this blur and solves this problem. IS binoculars can eliminate the eyestrain you can get from traditional binoculars. These are the ultimate binoculars for birding. Many use these for astronomy as well.
Features Doublet field-flattener for sharp, distortion-free images from edge-to-edge. Super spectra multi-coating for superior contrast. Water-resistant rubber coating for secure holding. Long eye relief for easy viewing (when viewing thru eyeglasses). Takes 2 AA batteries.
---
Canon's 10×30 IS II Binoculars Include: Case, Neck Strap, and Batteries
Closest Focusing Distance: 4.2 meters/13.8 feet
Image Stabilizer: Vari-Angle Prism
Dimensions: 5.0″ x 5.9″ x 2.8″ inches (22 ounces.)
---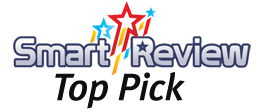 Smart-Review Commentary:
Canon is a leader in optics and especially in the field of Image Stabilized Binoculars. These Canon 10×30 binoculars are compact enough to take just about anywhere and are powerful enough for bird and nature observation. The IS feature is very handy, especially in situations where it is impossible to hold the optics steady, such as in a moving car or boat. To activate the Image Stabilization feature, you press a button on the binoculars. We suggest using rechargeable NIMH AA batteries for these binoculars. You can use these binoculars for astronomy, such as looking at the moon and planets. Owners of these binoculars have given exceptional reviews, even comparing them to much more expensive brands. These updated binoculars (latest version) are a
Smart-Review "Top Pick"
, as are all of Canon's Image Stabilizing line of binoculars.
We got to test these updated binoculars at CES, and can attest to their image stabilizing abilities.
---
---
---
Related Article: Best Image Stabilized Binoculars Roundup and Comparison
Related Article: Smart-Review: Binoculars Buying Guide for 2018
Shop Image Stabilized Binoculars
(Clicking on shop buttons will open a new window)
| | | |
| --- | --- | --- |
| | Image Stabilized Binoculars | |