Sony NEX-VG900 Full Frame Interchangeable Lens Camcorder
**New** Sony's newest Pro Camcorder with interchangeable lenses and a full frame imager. SmartReview previewed this model at CES 2013 in Las Vegas. This is the world's first full frame camcorder with interchangeable lenses. The camcorder can use Sony E-mount lenses or full frame A-mount lenses with the included LA-EA3 lens adaptor. The larger imager (35mm Exmor HD CMOS sensor) in this camcorder will allow you to get shallow depth of field shots, and better more professional looking shots in low light. For the filmmaker, you have full manual control of the iris, gain, and shutter, and can use whatever lens you need to fit your filming project. Video can be recorded to memory card, or uncompressed through an HDMI out connection for maximum quality. This camcorder has a remarkable OLED electronic viewfinder (EVF) which turns on when you look into it. The viewfinder has 2.359 million pixels, giving you a full HD picture while shooting. The camcorder is also equipped with a 3.0-inch touchscreen.
More Features:
For premium sound, the camcorder has a Quad Capsule Microphone (4 microphones) with 5.1 channel Surround Sound. The microphone is mounted well above the body to isolate it from body handling and lens sounds. You can also put a windscreen (included) over the microphone when outside. The new multi-interface shoe can take an optional XLR adapter kit should you choose that option. With the full frame imager, the NEX-VG900 can take 24 megapixel DSLR Class Still images with raw capture. The camera is powered by the BIONZ™ Image processor.
Full HD: 1080/60i/60p/24p (AVCHD 28mbps or uncompressed HDMI output)
Manual Features: Direct manual buttons: Iris, Gain and Shutter. Control dial. Hot accessory shoe.
Dimensions: 4.2 x 5.1 x 8.8″ (2.4 lbs.)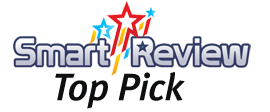 Smart-Review Commentary: Sony's NEX-VG900 is fully loaded with features that most serious camcorder users will appreciate. The camcorder's huge full frame imager will give you low light performance better than camcorders with smaller imagers. You have total control, as you can choose what lens you want to use in each situation, and the ability to show the shallow depth of field seen in motion pictures. The camera comes with an A-mount lens adaptor, so you can use any Sony A-mount lens. We got to handle this camcorder at CES 2013, and it was easy to detach and change lenses, and the built quality is very high on this model. It has full manual control, and even dedicated buttons for these settings. For serious filmmakers, you have the ability to record video uncompressed (at 60p, 60i, and 24p framerates) via an external recorder through the HDMI out connection. You can also record to memory cards at 28mbps. As this has the same size imaging sensor as a full frame DSLR, the 24mp pictures taken by this camcorder are exceptionally good. To top it off, this camcorder has an elevated 5.1 channel surround sound microphone, with an included windscreen for excellent sound with the built-in mic. The microphone contains four microphone capsules that are angled at 45 degrees to provide exceptional front-side directivity and stereo separation. An XLR microphone attachment is available as well. This model also has the highest resolution OLED viewfinder on the market (2.359 million pixels). It is in full HD, so you will see exactly what you will be filming. Most EVF viewfinders have only 1/10 the resolution of this model. For independant filmmakers the NEX-VG900 is a Smart-Review top pick.
Sony NEX-VG900
Sony NEX-VG900
Sony NEX-VG900 Battery
Sony 24-70mm
f/2.8 Lens

Camcorder Features

*New Model
Full HD Recording
Interchangeable Lenses
Included A-mount Adaptor
HDMI uncompressed out
Full Manual Controls
60p HD Mode
3.0 inch Touch-Screen
OLED Viewfinder
HDMI Terminal for HDTV
24.0 megapixel pics
Full Frame Imager


Is this the best price?

Is this the best price?

Is this the best price?
Related Article: 2012 Sony Handycam Camcorder Model Lineup
Related Article: Best Low Light Camcorders – Comparision and Reviews
Related Article: Flash Memory Camcorder Roundup and Comparison
Shop All HD & 4K Camcorders
(Clicking on shop buttons will open a new window)