Panasonic TC-L55ET5 55-Inch 1080p 120Hz LED LCD 3D TV
New for 2012. The Panasonic TC-L55ET5 Series 1080p LED TV is Panasonic's 55-inch mid range 3D Ready TV. This TV includes 4 sets of Polarized 3D Glasses. You can also watch 2D images converted into high-quality 3D in real-time. This size is perfect for dens, and living rooms where you would like to have an HDTV. Although value priced, it comes with some added features such as an Edge Lit LED backlight, Full HD, IPS LED Panel with 178° wide viewing angles, Built-in WiFi, and more. With its 120Hz refresh rate, along with a 3-phase backlight system, this TV can minimize image blur during fast action.

Panasonic Viera Connect Apps: The Panasonic TC-L55ET5 provides online Video on Demand services by pressing the Internet Button on the remote control (Including Netflix, Hulu Plus, Amazon Video, Youtube) Also Facebook and Twitter with Viera Connect Apps Navigator. VIERA remote App: allows you to control your TV using a smartphone or tablet. This set has Built-in WiFi, so there is nothing extra to buy.
Connectivity:
Plug in up to 4
HDMI
devices (such as a DVD or Blu-ray Player, DVR, or Game Console). Includes NTSC,
ATSC
HD, and QAM tuners.
DLNA CERTIFIED®
to connect to the content of your home network. PC input. The Viera TC-L55ET5 has a
built-in SD memory card slot
and 2 USB ports, so you can view pictures, music, or HD video on your TV from your digital camera, USB device, or camcorder. The new LED panel uses up to 25% less energy than last year's model.
Dimensions: 32.0″ x 50.5″ x 11.2″ with stand (62.9 lbs.)
Dimensions: 30.2″ x 50.5″ x 2.1″ without stand (55.2 lbs.)
Available Sizes: 42-inch, 47-inch , 55-inch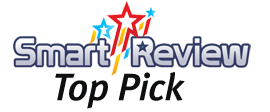 Smart-Review Commentary: The ET5 series is Panasonic's lowest priced 3D TV. This 55-inch TV is one of Panasonic's best LED TVs for 2012. This model is loaded with all the latest features, including Smart TV functions and Built-in WiFi to connect to internet functions. Essential Features include: Full HD 1080p, LED backlighting, Video on Demand and Internet Apps, 4 HDMI connections, and DLNA connectivity. It is a passive 3D Ready set, ready to go with 4 sets of 3D polarized glasses. These are the same type of glasses you would use in the movie theater. In addition to excellent consumer reviews, we also note that the TC-L55ET5 has a built-in SD/SDHC memory card slot and USB slots to play your own photos and video. You can control this TV with your Smart Phone or Tablet. Energy Efficiency has been greatly improved, and these models use 25% less electricity than last year's model. For 2012, this is a SmartReview "Top Value Pick" in 55-inch TVs.
Related Article: Best Rated 55-inch HDTVs Roundup and Comparison
Shop All Panasonic HDTVs
(Clicking on shop buttons will open a new window)