LG Cinema Screen 55LM7600 55-Inch 3D 1080p 240Hz LED HDTV
New for 2012. LG's Cinema 55LM7600 2nd generation passive 3D Ready 55-inch 1080p LED HDTV with TruMotion 240HZ technology. The set displays an outstanding picture for either regular 2D, or in the newest 3D programming. This LG TV uses passive 3D technology and includes 6 pairs of polarized 3D glasses. LG's Passive Cinema 3D technology allows for lighter, lower cost 3D glasses that don't need batteries and provide a brighter picture. This is the same type of technology used for 3D movies in a movie theater. You don't need the glasses to watch regular HD programming.

LG's new LED Plus technology provides a side lit LED backlight with local dimming technology. This technology allows for better picture and contrast. The 55LM7600 can achieve a 9,000,000:1 dynamic contrast ratio for the best picture. Its onboard 240HZ reduces blurring when you're watching your favorite sport, action movie, or playing a fast moving video game. Smart TV: allows you to access limitless internet content, thousands of movies, customizable apps, full web browser, and videos. The 55LM7600 is both Internet Ready , Netflix Ready and has a built-in Wifi adapter (nothing extra to buy). The Clear Voice II feature automatically enhances and amplifies the sound of the human voice frequency range to help keep dialogue audible.

The LM7600 Series is DLNA CERTIFIED® and has 24p Real Cinema video processing (for a movie theater experience). Other features include Four HDMI connections for your DVD Player, 3D Blu-ray Player, Game Console and other devices. The 1080p display has over two million pixel resolution, Audio is provided by two 10 watt stereo speakers. Three USB 2.0 ports allow you to view your video and photos on your TV, or listen to MP3 music. NTSC analog and ATSC with QAM digital TV tuners built in. Sleep Timer. Energy Star compliant. Typical power consumption: 160 watts.
Dimensions with stand: 48.5″ x 31.3″ x 13.0″ (55.1 lbs.)
Dimensions without stand: 48.5″ x 28.8″ x 1.3″ ( 47.0 lbs.)
Available Sizes: 55-inch, and 47-inch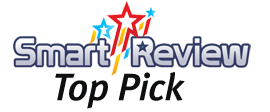 Smart-Review Commentary: For 2012, LG introduces its second generation of Passive 3D Ready TVs, the LM7600 Series. These sets are fully loaded with all the latest features including 3D, LED Backlighting with local dimming, 9,000,000:1 dynamic contrast, 240Hz, Internet Ready, Netflix Ready, with Smart TV. For internet capability, you can hookup an ethernet cable or use the Built-in wireless adapter. The Smart TV features include a full web browser and a full array of APPs to access internet content, movies, sports, news and TV shows. The LG LM7600 series is also Energy Star compliant which means it uses far less electricity than other non complaint sets. The new Magic Remote allows you to wave your hand, or use a scroll wheel to control your TV. Owners have reported a great 2D and very good 3D picture. Passive 3D technology uses polarized glasses (like the movie theaters). They are lighter and don't use batteries. If you are looking for a TV with great 2D HD and 3D capabilities (with 6 pairs of 3D glasses included), then the 55-inch 55LM7600 is an excellent value. As with last year's model, this TV has gotten excellent consumer reviews. It is a Smart-Review Top Pick for 2012.
LG LM7600 Series
55-inch
3D TV
47-inch
3D TV
LG NB3520A SoundBar

HDTV Features

*New 2012 Model
Passive 3D TV
1080p (1920×1080)
240Hz TruMotion
178 degree viewing angles
Four HDMI Connections
9,000,000 to 1 dynamic contrast
6 Pairs 3D Glasses
Internet Ready TV
DLNA CERTIFIED®
Energy Star Certified
SMART TV


Is this the best price?

Is this the best price?

Is this the best price?
Related Article: Best 55-inch LCD TVs Roundup and Comparison
Related Article: Best LED 3D HDTVs Roundup and Comparison
Shop All LED HDTVs
(Clicking on shop buttons will open a new window)