*New for 2015. The M55-C2 is Vizio's second generation 55-inch 4K Ultra HD LED backlit Smart TV. This 4K TV has about the same resolution as the 4K Projector in your local movie theater. For 2015, the Vizio M55-C2 has a full array LED display with 32 active zones. The local dimming zones ensure better picture with deeper blacks, higher contrast, and uniform image. The display has a 20,000,000:1 contrast ratio, 120Hz along with the 360 Clear Action Rate, provides blur free, clear motion. The 4K Ultra HD display has over eight million pixels of resolution (4x higher than Full HD). The Spatial Scaling Engine upconverts HD content to 4K. Sound is provided by a DTS StudioSound™ sound system. VIZIO Internet Apps Plus™ with the built-in wireless Wi-Fi (802.11 AC) gives you instant access to a world of streaming movies, TV shows, music, and more. This includes Netflix (with subscription), Youtube, Amazon Instant Video, Facebook, Blockbuster, Hulu Plus, Twitter, Sports and more. Send content from your smartphone or tablet to your TV. …More…




Available Sizes: 70-inch, 60-inch, 55-inch, 50-inch, 49-inch, 43-inch
4K TV Buying Guide (2014-2015) – The 4K revolution is upon us. A 4K UHD TV has four times the resolution of Full HD 1080p TVs. Regular HDTVs have 2 million pixels (1920 X 1080), while a 4K TV has 8 million pixels (3,840 X 2,160). This is the same resolution as a movie theater. […]
| | |
| --- | --- |
| **New for 2014. Sharp's SQ15 Series, LC-70SQ15U Q+ 70-inch LED backlit (4K Ready) Full HD TV is one of Sharp's best Full HDTVs for 2014. This is the only Full HD TV currently on the market, that can also play 4K content, but sells for much less than a 4K TV. (4K Ultra HD has 4x the resolution of Full HD, just like the movie theater.) The secret is that this sharp TV has 10 million subpixels more than regular HDTVs, which can give you almost 4K quality. It includes the Revelation™ 4K upscaler Engine and Quattron+ to watch current 1080p and 720p content and upscale the image to near 4K quality, or watch native 4K content. All content looks great on this set. It has an active 3D system for 3D content. Dynamic contrast is 8,000,000:1. 240Hz provides blur free, clear motion and quadruples the framerate of regular 60hz HDTVs. The SQ15 Series is 3D Ready and is DLNA CERTIFIED® to let you remotely access music, video, and photos. MHL® Compatible. Smart TV Apps: With the upgraded SmartCentral™ TV you have a full array of apps and movie choices through a user friendly and customizable interface. You will have access to Netflix, CinemaNow, Vudu streaming video and customized Internet content (including Facebook, Pandora, Twitter). Just plug in an ethernet cable, or use the built-in wireless WiFi. …More… | |
Top Rated 60-inch to 65-inch HDTVs & 4K TVs (2014-2015) – This page contains a roundup of the best rated large 60-inch to 65-inch LCD, LED, 3D Ready and Plasma HDTVs, presented here for a comparison of price, features, and reviews. This size is good for large sized living rooms. You can check what size […]
Best Rated 55-inch TVs Comparison & Reviews (2014-2015) – This page contains a roundup of all of the top-rated 55-inch LCD, LED, and 4K Ultra HD, and 3D Ready TVs, presented here for a comparison of price, features, and reviews. This size is good for medium to large sized living rooms. You can check what […]
*New for 2015. The M43-C1 is Vizio's second generation 43-inch 4K Ultra HD LED backlit Smart TV. This M-Series 4K TV has about the same resolution as the 4K Projector in your local movie theater. For 2015, the Vizio M43-C1 has a full array LED display with 28 active zones. The local dimming zones ensure better picture with deeper blacks, higher contrast, and uniform image. The display has a 20,000,000:1 contrast ratio, 120Hz along with the 360 Clear Action Rate, provides blur free, clear motion. The 4K Ultra HD display has over eight million pixels of resolution (4x higher than Full HD). The Spatial Scaling Engine upconverts HD content to 4K. Sound is provided by a DTS StudioSound™ sound system. VIZIO Internet Apps Plus™ with the built-in wireless Wi-Fi (802.11 AC) gives you instant access to a world of streaming movies, TV shows, music, and more. This includes Netflix (with subscription), Youtube, Amazon Instant Video, Facebook, Blockbuster, Hulu Plus, Twitter, Sports and more. Send content from your smartphone or tablet to your TV. …More…




Available Sizes: 70-inch, 60-inch, 55-inch, 50-inch, 49-inch, 43-inch
Best Rated 50-inch Smart TVs Comparison (2014-2015) – This page contains a roundup of all of the top-rated 50-inch LED, Plasma and 3D Ready TVs, presented here for a comparison of price, features, and reviews. This size is good for medium to large sized living rooms. You can check what size you need by consulting […]
Best Rated 47-inch, 48-inch TVs Comparison – This page contains a roundup of the best top-rated 47-inch, 48-inch LCD and LED HDTVs, presented here for a comparison of price, features, and reviews. This size is good for medium sized living rooms. You can check what size you need by consulting our HDTV Sizing Guide. For […]
Best Rated 40-inch and 42-inch TVs Comparison (2014-2015) – This page contains a roundup of the best top-rated 40-42 inch LCD and LED HDTVs, presented here for a comparison of price, features, and reviews. This size is good for small to medium living rooms. You can check what size you need by consulting our HDTV […]
High Definition Televisions have replaced the older CRT monitors and Analog TV sets that had been used for 50+ years. Now we have a new standard called Ultra HD, also know as a 4K TV. These new TVs have almost the same resolution as your movie theater, which uses 4K projectors. 4K TVs have four […]
Top Rated 70-inch to 80-inch and Larger LED HDTVs & 4K TVs – This page contains a roundup of the best-rated largest LED TVs, including 3D Ready Large Screen TVs, presented here for a comparison of price, features, and reviews. These giant sized TVs are good for large sized living rooms. For 2015 all manufacturers […]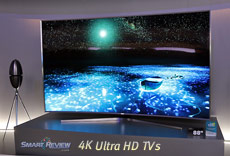 Best Rated 4K Ultra HD TVs – This page contains a roundup of all of the top-rated 4K Ultra HD TVs, presented here for a comparison of price, features, and reviews.
Ultra HD TVs have 4 times the resolution of the best 1080p Full HD TVs. 4K TVs give you a resolution of 3840 × 2160 or over 8 megapixels verus only 2 megapixels for Full HD TVs . . . This is the same type of resolution as seen on the 4K projector installed at your local movie theater. Enter this page.
*New for 2015. The M70-C3 is Vizio's second generation 70-inch 4K Ultra HD LED backlit Smart TV. This 4K TV has about the same resolution as the 4K Projector in your local movie theater. For 2015, the Vizio M70-C3 has a full array LED display with 32 active zones. The local dimming zones ensure better picture with deeper blacks, higher contrast, and uniform image. The display has a 20,000,000:1 contrast ratio, 120Hz along with the 720 Clear Action Rate, provides blur free, clear motion. The 4K Ultra HD display has over eight million pixels of resolution (4x higher than Full HD). The Spatial Scaling Engine upconverts HD content to 4K. Sound is provided by a DTS StudioSound™ sound system. VIZIO Internet Apps Plus™ with the built-in wireless Wi-Fi (802.11 AC) gives you instant access to a world of streaming movies, TV shows, music, and more. This includes Netflix (with subscription), Youtube, Amazon Instant Video, Facebook, Blockbuster, Hulu Plus, Twitter, Sports and more. Send content from your smartphone or tablet to your TV. …More…




Available Sizes: 70-inch, 60-inch, 55-inch, 50-inch, 49-inch, 43-inch
The Latest Top 10 (2014-2015) HDTVs – For 2015 the top of the line TVs are 4K Ultra HD TVs. These TVs have four times the resolution of Full HD and are going to be big in 2015. This is the same resolution as the movie theater. Native 4K Content from Netflix, Infinity (Comcast), DirecTV, […]
Can't find what you are looking for?
Type in the product below...