Canon VIXIA HF M500 Flash Memory HD Camcorder
*New for 2012. The Canon HF-M500 is Canon's newest low cost fully featured Flash Memory Camcorder. It is the least expensive Canon Camcorder with a large 1/3-inch imager. Records in full 1920 x 1080 Full HD Video (1080p). Records to SDHC/SDXC memory cards (camcorder has one memory card slot). The 10x zoom HD Video Lens delivers excellent image quality and has SuperRange optical image stabilization (to keep video sharp in low light, or when doing handheld shots without a tripod). External Microphone Terminal with Manual Audio Level Control and Headphone Jack. Included are advanced features such a newly developed large 1/3 inch HD CMOS Pro Image Sensor (better for low light), AVCHD H.264, Cinema-Look Filters, 2 megapixel still images, and has a true 24p Cinema mode. (native 24p) and a 30p mode. The External Microphone Jack will give you better sound options. The HF-M500 records at up to 24mbps (the AVHCD best bit rate). At maximum quality , you can record about 2 hours and 55 minutes to a 32GB SDHC/SDXC Memory Card. This camcorder can also record in .MP4 format. Canon's Instant AF focusing system greatly enhances auto focus speed and accuracy and decreases the time to lock in focus (even in low light).

This model has both Component and an HDMI Mini Connector (output) for best quality when hooking this camcorder directly to an HDTV. Mini Advanced Accessory Shoe to add an external light or microphone. Built in Flash for snapshot mode. Built-in video light. Features a 3.0 inch LCD touch screen (with 230,000 pixels). Dolby Digital 2 channel (AC-3) stereo sound.
Canon HF-M500 Dimensions: 2.7″ x 2.5″ x 4.8″ (10.9 ounces).
Camcorder HD Recording Modes: 1080p @ 30fps, 1080p @ 24fps
Camcorder 10x Lens: 35mm equivalent: 43.4-436mm f/1.8-3.0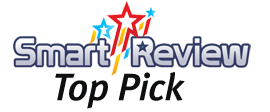 Smart-Review Commentary: For 2012, Canon's lowest cost camcorder with a big imaging sensor. The Canon HF M500 uses SDHC/SDXC memory cards to record full HD. The newly developed HD CMOS Pro Imager provides 20% higher light transmittance for better low light shooting and better dynamic range. This is the lowest cost camcorder with the CMOS Pro Imager. The camcorder has three microphone settings for different situations. A really useful feature for moving subjects is Canon's Touch & Track feature. You place your finger on the subject on the LCD screen, and the camcorder will follow the subject and keep it in proper focus and exposure. Canon's new imager is designed to be at a native resolution of 1920×1080, the same size as Full HD video. This makes each pixel larger and able to collect more light. The M500's External Microphone Jack gives you more options for quality sound, and a headphone jack will allow you to monitor your audio. The camcorder can also record in .mp4 format for uploading to facebook, youtube, etc. Great for sports. The low cost Canon HF M500 has received outstanding consumer reviews. It is an excellent HD camcorder choice for 2012 and is a Smart-Review top pick.
Canon Vixia HFM500
Canon HF M500
HD Camcorder
Canon HF M52
32GB HD Camcorder
Canon BP-718
Spare Battery

Camcorder Features

*New 2012 Model
Full HD Recording
10x Optical Zoom
Flash Memory
Native 24p Mode
30p Progressive Mode
HDMI Terminal for HDTV
Compact Size
Optical Image Stabilization
Large 1/3 inch imager
3.0-inch LCD Touchscreen


Is this the best price?

Is this the best price?

Is this the best price?
Related Camcorder: Panasonic HC-V750K HD WiFi Camcorder (2014)
Related Model: Sony Handycam 16GB PJ340 HD WiFi Camcorder (2014)
Related Article: Flash Memory Camcorder Roundup and Comparison
Related Article: Best Low Light Camcorders – Comparision and Reviews
Accessories for the Canon HF M500
Sandisk 32GB Extreme
SDHC Card
Transcend 32GB
SDHC Card
Transcend 16GB
SDHC Card
Canon DM50
Directional Microphone
Shop All Flash Memory Camcorders
(Clicking on shop buttons will open a new window)